Luxottica sets sight on small M&A
March 1 - Luxottica, the world's largest premium eyewear maker, is looking to buy small retail businesses in Latin America this year to offset slower growth in mature European markets, its chief executive told Reuters.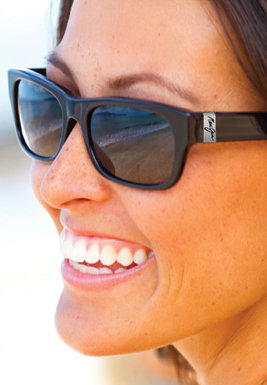 Maui Jim collection, available at Sunglass Hut
The company behind Ray-ban eyewear and the Sunglass Hut chain has been ramping up investments in Latin America, one of the world's biggest markets for sunglasses, to strengthen its global reach.
However, analysts have wondered when the cash-rich group would again make an acquisition of the size of Oakley, the sports sun brand it bought for around $2.1 billion in 2007.
"We will continue to build our two platforms in central and south America with small acquisitions," Guerra said in a phone interview before a presentation with analysts on Tuesday.
Luxottica is entering the Mexican retail market by buying two sun specialty chains for around 17 million euros ($23.5 million).
Guerra said he expects markets to grow at different speeds, with southern Europe slower than its leading U.S. market.
"The U.S. is the real emerging country for sunglasses, where we expect another year of growth," Guerra said.
Echoing top luxury goods groups such as LVMH and Swiss Richemont, Luxottica reported a record year for sales in 2010.
Having benefited from the market's rebound last year, Luxottica has raised the cash dividend by 25.7 percent for 2010 to 0.44 euro per share, around half of net income.
Guerra said he hopes to keep a payout of 50 percent of net profit this year, depending on market conditions.
The group said on Monday it expects profit growth to outpace sales in 2011, boosted by strong demand in the U.S. and emerging markets.
Guerra indicated profits could grow twice as fast as sales in 2011 if revenues grow 7 to 8 percent, in line with last year.
The group expects the debt/EBITDA ratio to come down to 1.6 to 1.7 times in 2011 from 2.0 at the end of last year.
At 0808 GMT Luxottica shares were up 2 percent at 23 euros. STOXX Europe personal goods index was up 0.86 percent.

(Writing by Antonella Ciancio; Editing by Hans Peters)
© Thomson Reuters 2017 All rights reserved.