S.Africa union to protest Walmart bid for local retailer
March 22 - South Africa's main retail union said it will picket the offices of the country's competition watchdog, demanding it block Walmart's plan to buy local chain Massmart or attach tough conditions.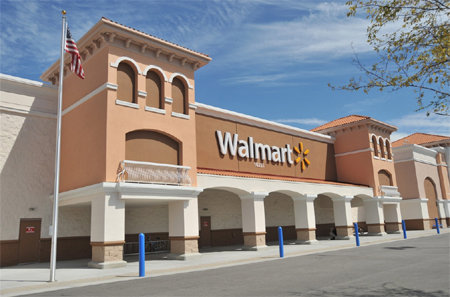 Walmart store, USA
South Africa's Competition Commission recommended last month that the world's largest retailer's plan to buy Massmart, South Africa's third-largest listed store group by value, and which owns chains such as Game and Makro, for more than $4 billion.
Shareholders overwhelmingly voted in favour of the $2.3 billion deal in January, which should help Massmart speed up expansion in sub-Saharan Africa, a region with vast growth potential.
The final hurdle is the hearing by the Competition Tribunal, which begins Tuesday and is set to last until Friday.
The South African Commercial, Catering and Allied Workers Union (SACCAWU) -- which includes workers in the wholesale and retail sectors -- is strongly opposed to the deal.
"We will tell the Competition Tribunal that we believe it is not in the best interest of South Africa for Walmart to be allowed into our country," Bones Skulu, SACCAWU General Secretary, said in a statement.
"We will also outline the conditions that must apply in the event that the Tribunal believes differently and or otherwise rules that the company may enter," Skulu said.
SACCAWU has formed an anti-Walmart coalition with other labour and activist groups.

(Reporting by Gugulakhe Lourie; editing by Ed Stoddard and Louise Heavens)
© Thomson Reuters 2017 All rights reserved.