Macy's announces new sustainability actions
Macy's Inc., one of the premier retailers in the US with fiscal 2010 sales of $25 billion, recently announced a series of new steps in its plan to operate more sustainably and to make a meaningful difference in improving the environment.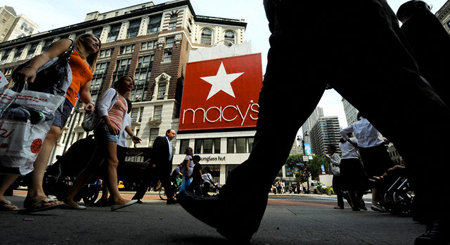 Pedestrians walk past Macy's flagship store in New York City
"Our company has embraced the principles of sustainability, and we continue to take actions that are tangible, measurable and meaningful in reducing our use of scarce resources and improving the efficiency of our business in serving customer needs," said Tom Cole, Macy's chief administrative officer. "We have made significant progress over the past several years, and we continue to move forward with new ideas in 2011 and beyond."
In fall 2011, Macy's will begin using environmentally friendly matte black hangers for most apparel merchandise sold in its stores, replacing clear hangers that have been the industry standard for several decades.
Macy's uses nearly 300 million hangers each year in its stores. The new black hangers can be manufactured using recycled plastic materials, saving on the new petroleum-based resins used to make clear hangers. Macy's will be asking its apparel vendors to begin shipping merchandise to Macy's on black hangers in fall 2011, with the transition expected to be complete in spring 2012.
In partnership with ECOtality, Macy's is expected to become the first major department store to pilot the use of self-serve electric vehicle charging stations, helping promote the reduction of fuel consumption and the transition to clean, renewable energy.
Macy's has become a Recyclebank Rewards Partner, allowing customers across America to earn special discounts at Macy's when they increase household recycling, reduce household energy usage and practice green lifestyles.
The company has also launched a second phase of its industry-leading program to install energy-saving LED light bulbs in stores nationwide. In 2011, the company plans to install about 280,000 LED bulbs in about 200 Macy's stores. This is in addition to more than 130,000 bulbs installed in 95 Macy's stores in 2010, cutting energy consumption by up to 73 percent.
By the end of 2011, Macy's will have eliminated the use of all foam packaging (cups, bowls, plates and to-go containers) at its in-store restaurants nationwide. Foam has been replaced by paper or plastic containers that are made from renewable resources and/or are recyclable. The company used more than 2.7 million foam containers as recently as 2009. That number was reduced by about 50 percent in 2010 and will be further reduced to zero by the end of 2011.
Macy's continues to increase the number of solar power systems hosted on its stores and facilities, expecting to end 2011 with 49 solar power systems hosted on the roofs of its stores, fulfillment and distribution centres.
With corporate offices in Cincinnati and New York, the company operates about 850 department stores in 45 states, the District of Columbia, Guam and Puerto Rico under the names of Macy's and Bloomingdale's, as well as the macys.com and bloomingdales.com websites. The company also operates four Bloomingdale's Outlet stores.
Copyright © 2017 FashionNetwork.com All rights reserved.