Under Armour names Karl-Heinz Maurath, ex-Adidas, as head of international branch
With a strong presence already in the US, Under Armour is now pressing forward with its international development. The American sportswear retailer, "leader in the US in the sports performance apparel market", has appointed Karl-Heinz Maurath to the position of President of Under Armour International, effective as of September. Nicknamed Charlie, Karl-Heinz Maurath will take over from Mark Dowley who left the company a year ago.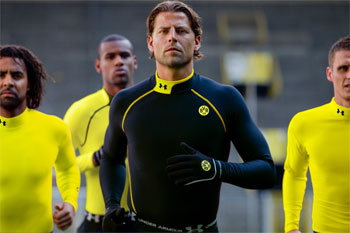 Under Armour, partner of German football team Borussia Dortmund
Maurath has spent several years in key positions at Adidas. After having established the brand's subsidiary in Thailand and managed both the Swedish and Scandinavian markets successively, he took over as head of Latin America, a position which he held for 9 years. His mission at Under Armour is simple: develop sales in America, Asia and Europe. In 2011 the retailer saw its sales leap by 38% to almost $1.5 billion but of which only $89 million took place outside of the US. Exports represent a meagre 6% of its revenue. Clothing and footwear represent 76% and 12% of sales respectively, the rest generated by accessories and licences.
Copyright © 2017 FashionNetwork.com All rights reserved.