Deckers sales up 20%
For its first quarter 2012, ended March 31, Deckers (UGG, Teva, Sanuk ...) recorded an increase in net sales of 20.2% for a total of 186 million euros ($ 246.3 million dollars) as compared to 155 million over the same period last year. However the California-based group's gross margin increased from 50% in the first quarter of 2011 to 46%, a decline that was partly due to changes in the price of sheepskin, which is reflected in production costs.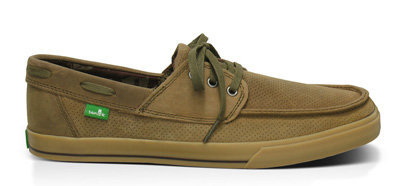 Sanuk footwear
"Compared to our expectations this first quarter had mixed results. The sales increase was boosted by the arrival of the Sanuk brand (acquired in July 2011 by Deckers ed.) and the growing interest in the UGG spring collection. While the overall profits were partially slowed by a drop in sales of UGG boots due to mild weather," said Angel Martinez, CEO of Deckers.
UGG still saw its sales rise 6.5% to 119 million euros and Sanuk sales reached 24.4 million euros while Teva saw its sales fall by 1.1% to 37 million euros, the result of the poor performance by the brand in the international wholesale network.
Internationally, the group's sales increased by 33.5% to 57 million euros but the Deckers domestic market, which accounted for sales of 128 million euros, was up 15.1%. Note, however, that Internet sales were up 7.5%. The group revised its annual forecast and showed an increase of 14% compared to the 15% previously indicated.
Copyright © 2017 FashionNetwork.com All rights reserved.