John Lewis sales boosted by rain, TVs and Jubilee
LONDON - John Lewis, Britain's biggest department store group, continued its run of double digit weekly sales increases, helped by wet weather, television sales boosted by the digital switchover and demand for Jubilee themed products.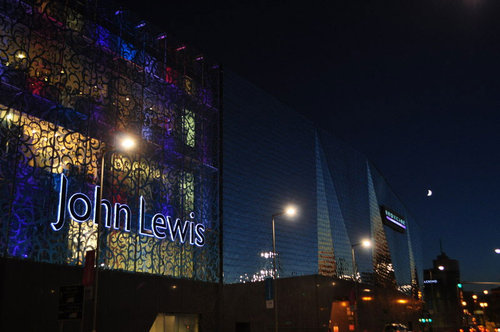 John Lewis store in Leicester / Photo: John Lewis
The employee-owned retailer has been growing sales even though official data this week said overall UK retail sales fell last month at their fastest rate in more than two years.
John Lewis said on Friday its sales increased 11.6 percent year-on-year to 59.7 million pounds ($93.6 million) in the week to May 19.
"John Lewis enjoyed another solid week, comfortably up on last year. Comparisons are as tricky as ever with the weather and the tail end of the digital switchover on our side while at the same time we were up against some strong trade thanks to some active price matching of a competitor's (Debenhams (DEB.L))sale last year," said Simon Russell, director retail operations development.
The firm has been outperforming the wider market as its generally more affluent customers have been less impacted by Britain's double dip recession, while improvements to product and service have chimed with consumers.
In an interview with Reuters last week John Lewis' retail director Andrew Murphy raised the firm's sales guidance for the year.
Electricals and home technology sales jumped 36.7 percent in the week, sales in the home category were up 4.8 percent and fashion sales rose 2.1 percent.
"There was a Jubilee theme to much of the home sales with anything red, white and blue definitely 'in' this spring. Bunting, bowler hats and tea towels were the best sellers," said Russell.
Many UK retailers are, however, under pressure as consumers are squeezed by higher prices, muted wage growth and government austerity measures designed to cut national debt.
On Tuesday Marks & Spencer, Britain's biggest clothing retailer, posted a first fall in annual profit for three years and slashed its sales targets.
John Lewis also owns upmarket supermarket chain Waitrose. Here week to May 19 sales increased 6.6 percent to 107.9 million pounds.
© Thomson Reuters 2017 All rights reserved.