Exclusive – Chanel: Coco perfume to show its dark side this autumn
A deep and mysterious black for Coco – the next perfume from the rue Cambon fashion house, which was presented to 400 journalists from around the world, gathered in Venice. The new perfume, which will use the same bottle as its predecessor but tinted black, is an elegant composition by the fashion house's perfumer, Jacques Polge, and director of research and development, Christopher Sheldrake, who was also responsible for Eau Première, the new interpretation of the classic Chanel N° 5.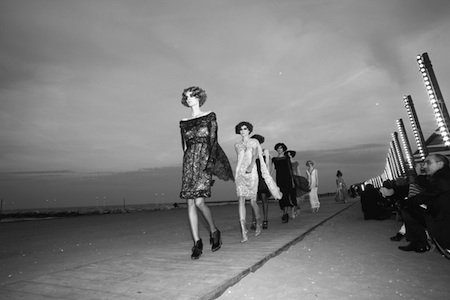 Chanel Cruise 2009/2010 runway show on the Lido / Photo: Olivier Zahm, Chanel News
Why Venice? The choice of the city is certainly not without significance as Coco Chanel, who visited it for the first time in the twenties to get over a tragically ended love affair, had her links to the city. She frequently went there and enjoyed walking on the Lido beach (legend has it that it was there that she had the idea of making shoes with cork soles so as to able to walk on the hot sand)or visiting churches to admire paintings by Titian (her first lipstick, launched in 1924, was called Titian Red) and Tintoretto. Let's not forget either that Venice, the gateway between the East and the West, has often inspired the label's collections (Karl Lagerfeld staged one of the Cruise collections runway shows there in 2010) with its fascination for a byzantine-inspired style.
According to the local press, journalists at the presentation were accompanied on a visit to Coco Chanel's classic haunts which ended with a candlelit dinner in the sumptuous setting of the Polignac palace where, as the newspaper La Nuova Venezia explained, "under Tiepolo's frescoes and with the scent of camellias in the air, the perfumers told the story of the perfume", made with the finest raw materials cultivated by Chanel in the south of France.
You'll have to wait until autumn, though, to catch a scent of it.
Copyright © 2017 FashionNetwork.com All rights reserved.