Cavalli no longer sure about stake sale
MILAN, May 27 (Reuters) - Italian designer Roberto Cavalli is no longer sure about selling a stake in his fashion house and expects 2009 turnover to be down 12 to 13 percent, he told an Italian newspaper in an interview published on Wednesday 27 May.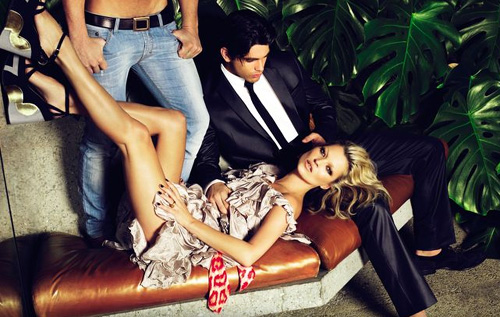 Just Cavalli Spring-Summer 2009
Cavalli, whose bold prints have won him fans among celebrities such as Victoria Beckham and Paris Hilton, has been in talks with private equity fund Clessidra.
Aked by Il Sole 24 Ore whether he was selling, Cavalli said: "I don't know, honestly".
"We are adrift on the sale. The magic EBITDA number in our 2008 results is not rich -- 4 million euros ($5.6 million). With current luxury multiples, I don't think it's worth selling," he added, referring to earnings before interest, tax, depreciation and amortisation.
The 68-year-old designer said the deadline for exclusive talks with Clessidra for 30 percent of the capital is May 31.
"I am no longer convinced that selling (a stake) is the right move. I think this brand has a value and a decisively higher potential than in the current difficult climate," he said. "I also fear losing my freedom."
He also told Il Sole he expected 2009 turnover to fall 12-13 percent. "January and February are two months to cancel -- as if the shops were closed for refurbishing. After that, it was better even if we are missing shopping by Russian consumers," he said. (Editing by David Holmes)