Loehmann's to close stores in next year
(Reuters) - Department store chain Loehmann's [ARCABL.UL] will close up to 15 stores over the next 12 months and sell the inventory, the company said on Thursday.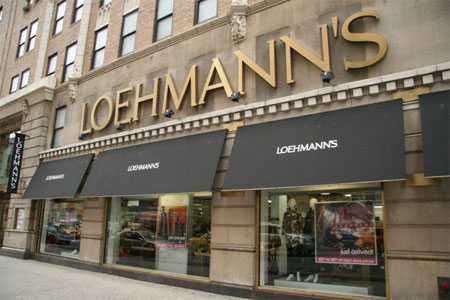 Photo : Corbis
Loehmann's Capital Corp, which is restructuring debt coming due next year, said more than half of its noteholders approved a consent solicitation that would let it close a quarter of its stores.
The company, owned by Dubai investment group Istithmar, a unit of Dubai World [DBWLD.UL], is one of many clothing retailers struggling with a downturn in consumer spending linked to high U.S. unemployment.
Loehmann's, which opened in Brooklyn in 1921, has 60 stores in 16 states and sells designer brands such as Calvin Klein and Diane Von Furstenburg at steep discounts.
The consent solicitation allows for a higher cap on borrowing that will let it increase its revolving credit facility by $10 million, the company said.
Loehmann's in September opened a debt exchange due Oct. 27 to exchange two classes of notes due in 2011 for corresponding notes due in 2014. It needs 97 percent of holders to approve the exchange.
According to an Oct. 14 release, the deadline for holders to receive $1,000 of new notes in exchange for $1,000 of old notes is Oct. 22. A previous release said that date to receive those exchange terms was Oct. 13.
Holders who exchange after Oct. 22 will receive $970 in new notes for each $1,000 in old notes, the company said.
Loehmann's liquidity problems contrast with the robust sales growth of off-price rivals such as a TJX Cos Inc (TJX.N) and Ross Stores Inc (ROST.O), which have won market share during the economic slowdown as consumers still want designer name brands despite being more cautious in how they spend.
Off-price retailers buy merchandise at below-wholesale prices and then sell them at up to 60 percent less than department stores and specialty retailers.
(Reporting by Caroline Humer, additional reporting by Phil Wahba. Editing by Robert MacMillan, Bernard Orr)
© Thomson Reuters 2017 All rights reserved.