Clothing company Express files for $200 million IPO
NEW YORK (Reuters) - Express, the sixth-largest specialty retail apparel brand in the U.S. on Tuesday 17 February filed for an initial public offering of up to $200 million.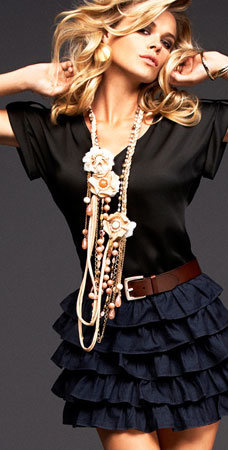 Photo: www.express.com
Columbus, Ohio-based Express Parent LLC sells clothing to women and men between the ages of 20 and 30. As of January 30 the company operated 573 stores.
Express posted revenue of $1.2 billion in the 39 weeks ended October 31, down about 4.7 percent from a year earlier. It posted a profit of $29.3 million, versus a $1.9 million loss a year earlier.
The company said it would use proceeds of the offering to prepay loans and credit and pay fees associated with the IPO.
Golden Gate Private Equity Inc currently holds a 75 percent ownership stake in Express. The filing with the U.S. Securities and Exchange Commission did not provide details of the offering.
Underwriters are being led by Bank of America Merrill Lynch and Goldman Sachs & Co. Express plans to list under the symbol "EXPR" EXPR.O.
(Reporting by Clare Baldwin, editing by Gerald E. McCormick)