'Noses' hone senses at Paris perfume school
Bent over strips of blotting paper, senses primed and notebooks in hand: this is how generations of "noses" have honed their art at the world-famous Givaudan perfumery school near Paris.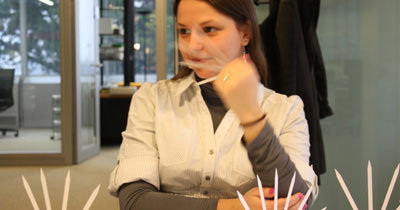 Photo: Givaudan
Fully one third of all fine fragrances created worldwide owe their existence to alumni of the school, which has been training young men and women in the subtle art since 1946 in the bland suburb of Argenteuil.
In the "vanilla building," five perfumers in the making - a Frenchman, two Brazilians, a young woman from Japan and another from Morocco - are hard at work, studying test strips imbibed with various scents.
"This is the room where 'Opium' was created, and over there is where they invented 'Poison'," said the school's director Jean Guichard, reeling off mythical names from the history of perfume.
Givaudan's former students include Jean-Claude Ellena, master perfumer at Hermes, Guerlain's in-house "nose" Thierry Wasseur, and Jacques Polge, Chanel's head perfumer since 1978 and the creator of both "Coco" and "Allure."
Guichard himself was the nose behind two well-known Cacharel perfumes, "Eden" and "Loulou," for which he blended "vanilla, a powdery something and hibiscus flowers inspired by a Gauguin painting."
Right now, 26-year-old Leandro Petit is concerned with Lily of the Valley, a flower whose fragrance cannot be extracted, and which is therefore synthesised for perfumers from a mix of natural and chemical components.
"I'm discovering all the different aspects of the substance," he enthused. "It's fascinating."
On another table, 27-year-old Nisrine Grillie, a chemist by training, talked AFP through the basics of chromatography, the molecule-by-molecule analysis of a perfume.
"Each period has its great perfumes"
Both she and Leandro belong to a tiny elite, cherry-picked by the Givaudan group, the world's biggest fragrance and flavouring company which creates perfumes for the top luxury brands right down to shampoos and detergents.
Of the 200 to 250 applicants each year, Guichard selects an average of just three.
"Our students are chosen for their academic profile and personality, but especially for their ability to understand their times, to be open to the world around them," he said.
"Each period has its great perfumes, its great filmmakers, its great musicians and its fashions. A great perfumer should be able to express the spirit of his age, to embody an era while doing what he loves."
While there is theoretically no age limit, most of the students here are between 25 and 30, with four to five years of university education behind them, when they embark on the three-year course.
New graduates owe their first five years of work to Givaudan, which runs six creative studios in Paris, New York, Sao Paulo, Shanghai, Singapore and Dubai.
Whatever their background, in science or humanities, a future nose needs technical training to get to grips with the vast field.
Whether designing for a fragrance or a laundry powder, "there is a necessary apprenticeship - which they then have to put to one side in order to be able to create," Guichard said.
He leads the way towards the laboratory containing the 1,300 raw materials used at Givaudan, and the meticulously labelled bottles containing the mixes, simple or complex, produced from them.
Students here are expected to master 500 of these substances "like the letters of the alphabet."
Then come the "chords," as the combinations of materials are known, and last the "phrases," families of scents as defined by the school founder Jean Carle - citrus, floral, woody, fern, oriental and "chypre" - a mix of citrus and moss.
"But real skill is not about memorising ingredients," Guichard says. "It's about invention, and that always involves a degree of chance."
Legend has it that Coco Chanel's iconic "Number 5" was born of one such happy accident: a mix-up in the use of aldehydes, chemical compounds that act as aroma boosters and were new to perfumery at the time.
While the perfumer Ernest Beaux was working on the recipe in 1920, a lab assistant is said to have used a full-strength aldehyde instead of a 10 percent dilution, combining with rose and jasmine to produce just the result Chanel was looking for.
Copyright © 2022 AFP. All rights reserved. All information displayed in this section (dispatches, photographs, logos) are protected by intellectual property rights owned by Agence France-Presse. As a consequence you may not copy, reproduce, modify, transmit, publish, display or in any way commercially exploit any of the contents of this section without the prior written consent of Agence France-Presses.