"Sham glam" sweeps China as fakes get trendy
By Tyra Dempster
BEIJING (Reuters Life!) - It's time to ditch the designer goods and adopt fake fashion, say some Chinese, as "sham glam" takes the world's most populous nation by storm.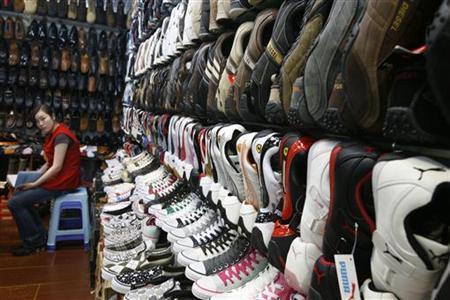 Though previously shunned as unsophisticated, fake products increasingly have their own chic appeal in China and a fashionable moniker -- "shanzhai."
Literally meaning "mountain fort," the term "shanzhai" is applied to everything from knock-off trainers and mobile phones to lookalike celebrities and television shows, and refers to the remote, maybe lawless locations they traditionally get made in.
And the popularity of these goods seems sure to grow as China's economy slows along with the rest of the world and real designer products spin out of the price range of more Chinese.
Many "shanzhai" goods sport altered names, trying to tread a fine line between imitation and straight-out fake, and cost much less than their above-board, well-known brand-name equivalents.
Samsung goes to Samsing, Adidas goes to Odidoss or Avivas and Hike, Like or even Mike substitute for Nike, with the U.S. sports wear firm's mark at times reversed and given an extra flourish.
"It's an imitation, so it's not a fake and it's not infringing copyright. Maybe it lacks innovation but it's not really bad," said Beijing student Cui Lai.
The term "shanzhai" also riffs off a popular Cultural Revolution era slogan about a model village, Dazhai, which has been changed to read: "In agriculture learn from Dazhai, in industry learn from Shanzhai."
AS GOOD AS THE REAL THING?
Piracy has long been a problem in China. Copies of the latest Hollywood movies have been know to appear on the streets in DVD form even before the films are released in theatres.
The United States and European Union have expressed their displeasure with Beijing numerous times over the problem, and it has proven a major irritant in trade and political ties.
China says it is trying hard to tackle piracy, but that as it is a developing country it may take many years to root out the problem.
Yet the growing popularity of "shanzhai" products in China could prove an extra headache for the original and mostly foreign brands already struggling to enforce their intellectual property in the world's third-largest economy.
"It is possible that these lookalikes, these sort of brand upstarts, can actually become quite famous locally and then the case would be considerably more difficult," said Scott Palmer of Baker & McKenzie, who specializes in anti-piracy law in China.
The brazenness of the imitations has added to their attraction. Beijing's electronics markets enjoy a roaring trade in "shanzhai" goods.
"I think that 'shanzhai' is an example of China's skilfulness," said Jin Hui, 21. "I mean, think about it. If you can take good products and produce its equal, that's a sign of progress."
This year, CCSTV -- standing for China Countryside Television as opposed to state broadcaster China Central Television -- put on an amateur alternative to CCTV's Lunar New Year's Eve gala, though it failed to reach its audience due to technical problems.
Still, many people in China find the whole "shanzhai" phenomenon embarrassing.
"What is 'shanzhai' culture? In reality it's piracy culture, intellectual property rights infringement culture and banditry culture," wrote one blogger wrote on the popular Chinese Internet portal sina.com.cn.
(Additional reporting and writing by Ben Blanchard, editing by Miral Fahmy)
© Thomson Reuters 2023 All rights reserved.