"Tiny hands" let Paris haute couture sparkle
By Sophie Hardach
PARIS (Reuters) - Parisian haute couture designers mixed skill and science Tuesday 26 January in a celebration of the "petites mains," the nimble-fingered seamstresses who stitch together the world's most expensive evening wear.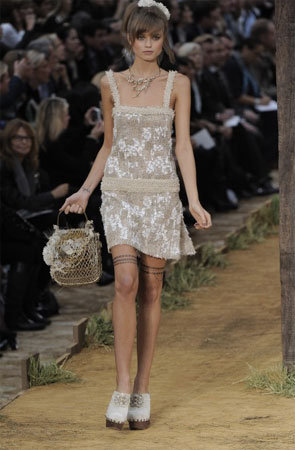 Chanel spring-summer 2010 - Photo: Pixel Formula
At the Chanel fashion show, Karl Lagerfeld indulged in the ancient craft of embroidery from metal-encrusted shoulders on dresses to silver shoes embellished with pearls.
"It takes hundreds of hours, these people work so hard," Lagerfeld said with admiration for the "small hands" in his Paris atelier.
"For me, I just have the idea, a flash like that, I don't have to actually do it."
Stephane Rolland, a favorite with Middle Eastern royals and pop singers such as Cheryl Cole, worked with chemists to develop a supple form of red and black lacquer that he brushed on floor-sweeping gowns to dazzling effect.
Laser-cut discs of plexiglas were sewn onto fabric to create sculptural dresses in red and purple or white-on-white.
It took 10 embroiderers two weeks to attach the 26,000 pieces of plexiglas to Rolland's bridal gown, the final model in his collection.
"Haute couture has to be modern, up-to-date, exciting, and wearable. It has to be exported easily and preserve the image of French savoir-faire," Rolland told Reuters.
Such dresses will be worn by princesses and celebrities, bringing in a turnover of 5 million euros ($7 million) in 2009 for Rolland, who plans to expand into ready-to-wear.
The "petites mains" behind his success have become a symbol of the exclusivity as well as the difficulties of Parisian haute couture.
Trained for years and often intensely loyal to one fashion house, these women can be spotted backstage putting last touches on a dress with needle and thread, or watching the throng of models and dressers with quiet pride.
But at a time when labels are forced to slash costs and manual labor is a less attractive career option than it used to be, many fear for the future of the craft -- and haute couture.
When Christian Lacroix ran into financial difficulties last year, it was the fate of his seamstresses most people worried over, as designers.
Some of them reportedly were taken on by Lagerfeld, and helped produce the pastel-colored, silver-threaded long sheath dresses and skirt suits at his show.
And while happy to extoll the virtue of teamwork in production, Lagerfeld made clear that there were no helping hands when it came to creativity:
"I am my own best inspiration," he told reporters.
(Editing by Michael Roddy)
© Thomson Reuters 2023 All rights reserved.