"Youth Depression" hard on retailers
By Ed Stoddard and Alexandria Sage - Analysis
DALLAS/SAN FRANCISCO (Reuters) - Jon Koehling has a job delivering pizzas in a Dallas suburb and that sets this 21-year-old apart from many of his American peers.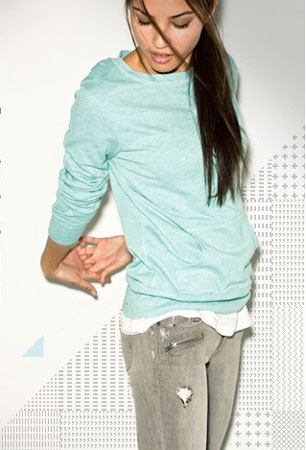 Pacific Sunwear - Photo: pacsun.com
"I'm grateful I have a job I don't hate. I did about 15 to 20 applications and it took me three months to get this job," he said as he sat in the restaurant between deliveries.
Koehling is fortunate. People under 30 have been pounded by this recession and its job losses and the implications for some retailers are proving to be dire this holiday season.
Andrew Sum, a labor economist at Northeastern University in Boston, reckons about 50 percent of the 7.7 million jobs lost over the past two years have been absorbed by those under 30.
Within that group, about 62 percent of these job losses have been incurred by young men.
Those aged 16 to 19 have seen a 23 percent decline in jobs -- by far the sharpest decline of any age category. In October to November 2007, almost 5.9 million people in this group were employed either full or part time, according to Sum. By October of this year only 4.5 million were.
This may explain why mall-based retailers catering to male and female teens such as Pacific Sunwear of California Inc, American Eagle Outfitters Inc and Abercrombie & Fitch Co are resorting to steep promotions.
Pacific Sunwear shares have shed 50 percent since a 2009 high in October. American Eagle shares are down 15 percent in the same period, Zumiez Inc has fallen 28 percent since a September high and Abercrombie is down 16 percent from a 2009 high in November.
The labor situation has been especially hard for the working class and Sum estimates the recession has taken 17 percent of America's blue-collar jobs over the past two years.
"It is the most uneven recession ever. It's all young and working class for the most part ... In the labor and youth markets, I would call it a Great Depression," Sum told Reuters.
GOT IT, SPEND IT
The young tend to spend what they earn so their job woes are bad news for retailers. And in this downturn, they can't rely on making up the difference through from parents' wallets, which already are stretched thin.
Retail analysts note that teenagers for decades have been a key consumer market relied on by many sectors -- from consumer products to electronics to the approximately $26 billion teen apparel market, which is down 7.6 percent this year through October, according to NPD Group.
Eric Beder, an analyst with Brean Murray Carret, estimates teen income has been down 30 percent over the past two years, with apparel, video games and fast food restaurants really taking it on the chin.
"That entire retailing segment has been hurt and fast food ... Think of where 16- to 19-year-olds hang out. It's in the mall and in fast food restaurants," he said.
In apparel, the lower teen income has most visibly hurt Abercrombie & Fitch, known for its clothing at higher price points than competitors. The chain has posted some of the worst sales results in the teen apparel segment over the past year as teens have gravitated to lower-priced chains such as Aeropostale Inc.
On the other side of this demographic equation, Sum -- using U.S. Department of Labor data -- calculates that, in the over 55 age group, there are over a million more people working now than there were just over two years ago.
This is partly because this group includes the numerous "baby boomer" generation -- who drove much consumption when they were teens -- but also because many older workers have reentered the labor force because their retirement nest eggs or properties have lost value.
One consequence of this has been increased competition for low wage jobs in the retail, fast food and entertainment sectors typically associated with young adults and students.
Jim Morgan, 19, and Brad Hearst, 18, who were smoking in the snow-filled parking lot of a fast-food restaurant in Loves Park, a suburb of Rockford, Illinois, can relate.
Morgan graduated from high school in 2008 and has yet to find a permanent job. He lives with his parents.
"Everywhere I apply for a job, I get told I don't have experience, but how am I going to get any experience when no one will give me a job?" he said.
"Even some of the stores and fast-food places I've tried, they're hiring older workers who've lost their jobs elsewhere but have experience. I've been squeezed out of the job market and I'm about ready to give up."
Hearst graduated this summer and has yet to get a job, although he says he has applied everywhere in the area.
Sum said these scenarios stemmed in part from minimum wage increases.
"Employers say, 'If I have to pay somebody $7.50 or $8.00 an hour I'm going to hire an older worker," he added.
But for some retailers that it is still not good news -- older workers are more likely to save or to spend their earnings in other ways.
(Reporting by Ed Stoddard and Alexandria Sage; additional reporting by Nick Carey in Loves Park, Illinois; editing by Michele Gershberg and Andre Grenon)
© Thomson Reuters 2023 All rights reserved.