A Moment In… Time for men
After 'A Moment In… Focus' for women, 'A Moment In… Time' for men has arrived. Two off-the-peg lines with different styles but with a common concept behind them: an invited designer each season. The Japanese designer Asa Nishijima gets the ball rolling with outfits with a variety of influences; a touch of Antwerp, a bit from Japan and a lot drawn from nature.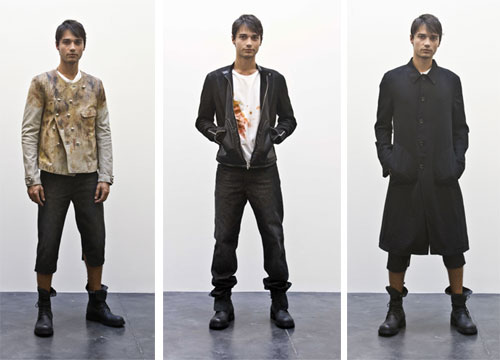 Spring-summer collection 2010 A Moment In ... Time
Around fifty items of clothing will make-up the first collection for spring-summer 2010. On the menu are three-quarter length coats in linen and cotton, Japan inspired cuts which are sometimes asymmetric, straight-cut short jackets as well as more fluid and trousers such as are worn by Japanese workers, livened up here by tone on tone embroidery.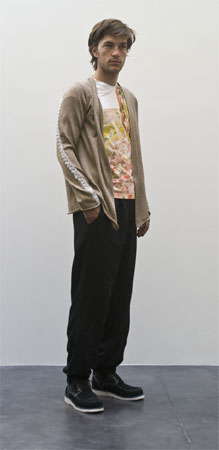 Spring-summer collection A Moment In... Focus
The collection continues with woolen jumpers largely inspired by the aquatic world, amply demonstrated by the pearl balls which are placed on sleeves like drops of water. But it is above all the t-shirts which establish the "sea city" spirit that Asa Nishijima has encompassed in these clothes. Algae, rock, water, sand and also oil can be seen in a jumble of colours projected from each t-shirt, unique items that are sure to attract the eye of collectors.
This style is reinforced by the range of colour used, strongly linked to nature, with ocean green, blue, grey-blues and black, which are livened up by touches of clear yellow or beige.
Leather items from the collection will retail at around €1,500, jackets at €800, linen trousers for somewhere in the region of €300, rising to close to €700 with embroidery.
A line of accessories will also accompany the range and will consist of leather bags, shoes and belts. Though the collection may be small, the style in what it presents is clearly in evidence. A selection will be on offer in Paris at L'Eclaireur and at Barneys in New York. Other points of sale are in the process of being negotiated.
Finally, the team behind the 'A Moment In…' concept, launched in February, are continuing their adventure and preparing a collection of jerseys for the autumn called 'A Moment In… Touch'. At the same time the third ladies' collection will be realized, focusing as usual on knitwear. Further projects and developments are on the right track also; the group has already announced the arrival of a line of cosmetics to complement their fashion ranges.
By Jonathan Fulwell (Source: Emilie-Alice Fabrizi)
Copyright © 2023 FashionNetwork.com All rights reserved.