About 30 serious inquiries for Ferre owner
MILAN (Reuters) - There have been about 30 serious inquiries about IT Holding (ITH.MI), the owner of fashion brand Gianfranco Ferre, a source close to the special commissioners trying to find buyers said on Tuesday 15 December.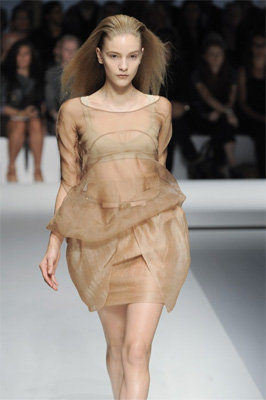 Gianfranco Ferré spring-summer 2010
The government-appointed commissioners called for bids for all or part of the group in September.
The source said 60 expressions of interest had been received by the commissioners so far, but "only around 30 are really serious."
IT Holding was placed in administration in February.
The group is made up of production unit Ittierre -- which makes and distributes clothes for lines such as Just Cavalli and Galliano -- and fashion brands Gianfranco Ferre and Malo.
The commissioners have drawn up a plan for the group, which they submitted last month, subject to approval by the industry ministry. That approval should have come within about a month but the source said commissioners had asked for a slight extension.
(Reporting by Cristina Carlevaro, writing by Jo Winterbottom)
© Thomson Reuters 2023 All rights reserved.