Afghan insecurity pushes gold price up, business down
KABUL, Feb 7, 2010 (AFP) - Sayed Mukhtar's shop in downtown Kabul is heaving with heavy 24-carat gold necklaces, rings and bracelets gleaming under fluorescent lights, but buyers these days are few and far between.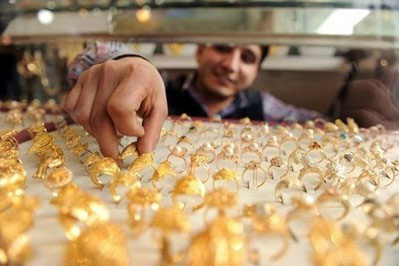 Photo: AFP/Shah Marai
Business is down 90 percent in the past year, Mukhtar said, blaming the increasingly volatile security situation as the war against Taliban militants drags into a ninth year.
With the war escalating in the most restive southern parts of the country, the Taliban are also bringing their fight to the capital, forcing people indoors and those with money and assets to flee abroad, he said.
On January 18, Taliban gunmen and suicide bombers attacked buildings across the heart of Kabul -- some of them not far from Mukhtar's shop on the ground floor of the Pashtuni Bank -- killing at least five people including a child.
Fires raged after two shopping centres, a cinema and the only five-star hotel in the Afghan capital, the Serena just round the corner, were targeted by militants who set off a wave of explosions.
Seventy-one people were wounded in the most dramatic strike on Kabul since Taliban militants laid siege to government buildings in February 2009, killing at least 26 people.
For Mukhtar and the other traders at Kabul's gold bazaar -- a row of tiny, white-tiled shops beneath the bank in the city's busiest shopping district -- it was the lowest point in tough times that they see only getting worse.
As gold looks increasingly like a solid bet for international investors, bouncing and holding above 1,000 dollars an ounce amid predictions it could hit 1,300 dollars in coming months, for some Afghans it has lost its lustre.
"My costs are based on the world price, of course, because a lot of my stock comes in from Dubai, but rising prices will not be good for me because the higher the price, the lower my business," Mukhtar said.
Gold is fetching 1,700 afghanis per gram (36 dollars), he said, 400 afghanis less than at the same time a year ago.
"This is a bad time to be a gold trader, about the worst I've seen in 15 years in the business," he told AFP.
"Until a couple of years ago the business was very, very good, but I think the rich people have left the country," he said, adding he has received death threats and fears kidnap by criminal gangs.
"When the market was good I could sell 15-20 items per day, but now we hardly sell more than two items. Sometimes we don't sell anything at all and some days we have no customers at all."
For Afghans, like many people in South Asia, gold is a wedding tradition and prospective husbands can spend thousands of dollars on jewellery for their betrothed -- everything from simple rings to elaborate breast plates and crowns.
But said Mukhtar: "It's been two years since I sold one of those high-priced items, a necklace costing a million afghanis."
In another shop on the well-guarded strip, 21-year-old Parisa Bakhshi slides a gold filigree and sapphire ring onto her wedding finger as her future mother-in-law, a dark woollen shawl pulled over her head, nods approval.
The following day she was booked on a plane to Oslo to join her fiance -- "and I want something to show off," she said.
Her fiance's brother Jamil said when he married two years ago, gold was selling for 950 afghanis per gram.
"I was lucky then and now it is good to have," he grins.
Mukhtar said most his customers nowadays come to sell their old jewellery or to exchange it for new items for a 10 percent premium.
Whereas Afghans have long bought gold as a store of wealth, the lack of business is a sign that they lack confidence in their government's ability to bring peace to the country and get the economy moving.
As one of the poorest countries in the world, Afghanistan's biggest export item is opium, worth an estimated three billion dollars a year.
"Without industry, we're going nowhere," Mukhtar said.
A fraud-tainted election last August -- after which Hamid Karzai was declared president though around a quarter of all votes were deemed fake -- had undermined the government's authority, he said.
"It's been getting worse since the election because of the political vacuum," he said of both the country's economy and his own business.
"And as security worsens women, who are the buyers, are not allowed to go outside because their men fear suicide bombers and other attacks."by Lynne O'Donnell
Copyright © 2023 AFP. All rights reserved. All information displayed in this section (dispatches, photographs, logos) are protected by intellectual property rights owned by Agence France-Presse. As a consequence you may not copy, reproduce, modify, transmit, publish, display or in any way commercially exploit any of the contents of this section without the prior written consent of Agence France-Presses.