Africa inspires Cavalli, Bottega expands on jacket
By Marie-Louise Gumuchian
MILAN (Reuters) - Italian designer Roberto Cavalli offered men's tops and trousers decorated with prints of pictures he had taken of an African sunset and overlapping palm leaves at his spring/summer 2009 show on Sunday.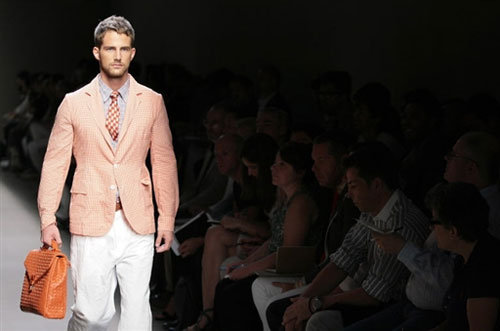 Bottega Veneta - Photo : Emilio Andreoli/AFP
Images of a floral bouquet and animal prints also featured in his menswear collection, entitled "Bohemian Safari", on the second day of Milan fashion week.
Cavalli, who also sent out female models in long, floating dresses -- some with gold chain detailing hugging the frame -- said he envisioned an extravagant man, an explorer, "a hippie and a nomad, who wears memories from a safari on himself".
"(Next summer's) man is very free," he told Reuters.
Colors were vivid with doses of white, dark brown, red, geranium and intense blue. Silhouettes were skinny on top and large at the bottom or the contrary. Kaftans and shirts with airy sleeves paired with pajama trousers or skinny printed jeans.
Cavalli catered for all temperatures, going from jumpers and thickish, holey scarves to tight colorful swimwear. Leather belts were tied around jackets, some with no collars.
Bottega Veneta presented what it called an "extended meditation" on the jacket, starting with an unlined, light, pajama-inspired jacket in printed cotton or cashmere and moving on to "double" jackets of two monochromatic layers.
Designer Tomas Maier also sent out models in blazers in knit and jersey, finishing with a white shantung silk dinner jacket.
"Thinking about menswear clothes, for me the most important item is the jacket," Maier told Reuters after the show. "I also like the fact that the man is more covered. There is a lot of nudity out there and I think it is a little bit too much."
Trousers were loose, made from crisp cotton or double-pleated gabardine, and sometimes cuffed. Navy blue and cobalt dominated, with neutrals glimpsed on the lapel facings of jackets. Patterns were stripes and Vichy checks.
ARMANI GOES NORTH
At Emporio Armani, the theme was Nordic Europe, and designs emphasized a streamlined silhouette with wide trousers narrow at the hem and close-fitting sleeves with a narrow shawl collar.
Giorgio Armani used mainly dark Colors with hues of grey to dark variations of navy blue. He presented tight waistcoats and jackets with several zips all the way down.
Linings were piped, making the outfits look light with materials such as linen, silk and polyester blends. The show, watched by American actor Josh Hartnett, also offered light parkas and mini-trenches with drawstring Bermudas for sportswear.
Miuccia Prada turned out her models in cropped jumpers and long T-shirts that were low cut. The designer presented low-cut jumpers and jackets, some with a strap on the inside over the shoulder.
The line, in navy blue, black, dark green and mustard yellow, contrasted light items and rigid structure for trousers and jeans. White T-shirts and shorts were worn with black socks.
Gianfranco Ferre used a presentation instead of a catwalk show to present smoothly cut jackets, linear overcoats and slim trousers in dark neutral Colors with skinny belts that added shine.
Ferre said the line, designed by the house's creative team, had no clear inspiration "other than man himself".
Britain's Vivienne Westwood and Alexander McQueen also presented lines. Westwood featured vests, loose-fitting shirts and a pink tracksuit, even bringing on a dog to accompany one of her models.
McQueen looked at body definition, with collars vanishing into the body of jackets.
Milan's spring and summer 2009 menswear shows run until June 24. More than 40 designers are holding catwalk shows.
(Editing by Andrew Dobbie)
© Thomson Reuters 2023 All rights reserved.