Africa textile makers want US trade deal extended
NAIROBI (Reuters) - African countries which export textiles and clothing to the United States are calling for an extension to a U.S. law which gives them favourable market access, a trade association said on Monday 3 August.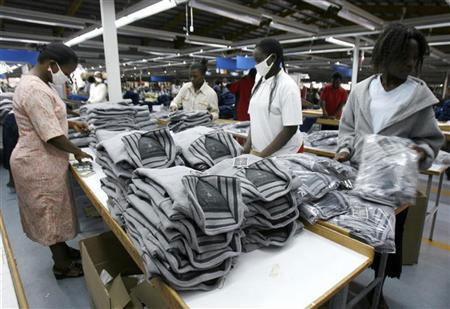 Photo: REUTERS/Thomas Mukoya
In Nairobi this week, U.S. Secretary of State Hillary Clinton will address U.S. and African officials who meet annually to discuss aspects of the legislation in question -- the U.S. African Growth and Opportunity Act (AGOA).
"We would like to see AGOA as a more permanent trade agreement, similar to the European Economic Partnership," said Jaswinder Bedi, chairman of the African Cotton and Textile Industries Federation (ACTIF), which represents 17 countries.
AGOA has accorded duty and quota-free access for many sub-Saharan African nations' products such as textiles since 2000, but it is scheduled to expire in 2015, a deadline which Bedi said caused uncertainty, keeping potential investors away.
"The problem with a time-bound agreement is that it creates a lot of uncertainty and a lot of predictability issues, so the buyers don't want to really put up a fully-fledged ... buying office," he told reporters.
U.S. Trade Representative Ron Kirk, the first black person to hold the post, will also attend the annual AGOA Forum which opens in Kenya's capital on Wednesday 5 August. Kirk has made attention to African trade concerns a feature of his first few months in office.
He is expected to tell West African nations that the United States can only cut cotton subsidies as part of a larger pact where developing countries like India and China open their markets to more U.S. cotton exports.
While statistics for all countries were unavailable, Bedi cited South Africa, Mauritius, Madagascar, Kenya, Lesotho and Swaziland, where exports rose until 2005, but started falling thereafter due to the elimination of trade quotas worldwide.
U.S. trade with sub-Saharan Africa remains small, despite the duty-free treatment given to 39 participating countries.
Sub-Saharan African countries accounted for just slightly more than 1 percent of total U.S. exports and about 3 percent of total U.S. imports in 2008.
AGOA grants duty-free status to more than 6,400 product lines including meat and livestock, vegetables and fruits, footwear, wine, chemicals, steel and motor vehicle components.
By George Obulutsa
© Thomson Reuters 2023 All rights reserved.