Americans to hold wallets tighter for holidays
WASHINGTON, Nov 18, 2007 (AFP) - US consumers, battered by a horrific housing slump and soaring energy costs, are expected to show caution in holiday spending this year, putting more pressure on retailers and the overall economy, analysts say.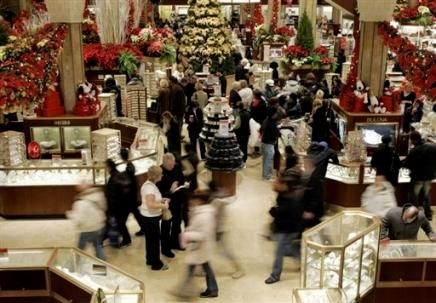 People shopping in Macy's New York
Photo : AFP
Surveys project tepid growth in gift spending for the holiday shopping season set to begin Friday, the day after the Thanksgiving Day holiday.
The grim outlook has retailers starting early promotions and discounts to get consumers out and ensure that stores are not stuck with too much merchandise.
The National Retail Federation is projecting a 4.0 percent rise in holiday spending. A separate survey by Ernst & Young suggests growth of 4.5 percent.
Ratings firm Standard & Poor's predicts general merchandise sales to rise only 3.0 to 3.5 percent, well below increases of 4.9 and 5.8 percent in 2006 and 2005, respectively.
That would keep nearly flat the 250-billion dollar holiday shopping season in November and December that typically accounts for about 23 percent of annual retail sales and even more in profits, according to S&P.
"As the critical holiday shopping season approaches, there is also a growing concern that the housing downturn could begin to spill over into consumer confidence and consumer spending," said S&P analyst Gerald Hirschberg.
"Compared to last year at this time, retail spending is distinctly slower as measured by same-store sales, as consumers have been squeezed by higher energy prices and higher mortgage rates."
Chicago-based Mesirow Financial economist Diane Swonk predicts a rise of 4.6 percent, but that would be just 1.1 percent after adjusting for inflation.
Swonk said pressure from the housing meltdown and high fuel costs are squeezing many low- and middle-income households and that as a result inflation-adjusted spending will be the weakest since the start of the expansion.
"On net, consumer spending will continue to look better in the aggregate than it feels to the overwhelming majority of Americans. Middle-and lower-income households are expected to feel particularly squeezed as the subprime debacle exacerbates the sense of inequality," says Swonk.
Other surveys show many consumers may hold firm in holiday spending -- a trend being watched because it is a make-or-break season for many retailers and because consumer spending accounts for some two-thirds of US economic activity.
The International Council of Shopping Centers found 72 percent of shoppers surveyed plan to spend about the same or more -- an average of 1,116 dollars -- on gifts, entertaining, travel and decorations.
Yet a poll by Consumer Reports shows 23 percent of respondents anticipate they will spend less than last year, and that many are waiting longer to get started.
"Our findings suggest that consumers are tightening their wallets this year more so than last year," said Tod Marks, a senior editor at Consumer Reports.
Some analysts say that aggregate figures on spending are misleading because wealthier consumers will spend more on luxury items but the majority of Americans may cut back.
"While US consumers will continue to spend, sales will likely increase at a lesser rate than last year due to concerns about high energy and food prices, rising interest rates and falling housing prices," says Jay McIntosh, an analyst at Ernst & Young.
"Retail promotions and price-cuts will be key to attracting low- and middle-income shoppers who are feeling the pinch of higher fuel prices."
Retailing consultant Stevan Buxbaum said panicked retailers will not wait long to slash prices in the current environment.
"We'll see a lot of retailers discounting earlier. They're not going to play the game of waiting to see if someone else cuts prices first," says Buxbaum.
The sagging dollar, said Buxbaum, will make European imports too pricey for many Americans and boost US companies in the same category.
"People will be more selective about higher-priced items," he said.
"Instead of buying a Louis Vuitton purse and wallet, they may just buy the purse. Some may also forego the overseas brands altogether and instead turn to Coach or other better domestic labels."
Swonk said middle-income consumers may benefit from discounts but that lean inventories will mean they have to act quickly.
"Procrastinators in particular are likely to be left empty-handed unless they choose to buy gift cards, which will shift even more holiday spending from late 2007 into early 2008," Swonk said.

By Rob Lever
Copyright © 2023 AFP. All rights reserved. All information displayed in this section (dispatches, photographs, logos) are protected by intellectual property rights owned by Agence France-Presse. As a consequence you may not copy, reproduce, modify, transmit, publish, display or in any way commercially exploit any of the contents of this section without the prior written consent of Agence France-Presses.