An IPO shines brightest among Rio's diamond options
LONDON - A stock market flotation is likely to top the list of options when Rio Tinto reviews the future of its diamond business, as a shortage of heavyweight buyers prompts the miner to turn instead to funds betting on Asia's appetite for luxury.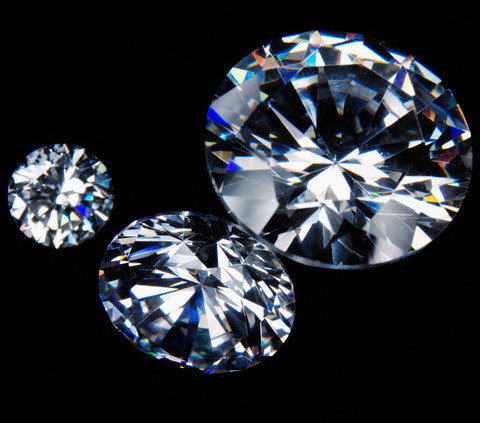 Photo: Corbis
The Anglo-Australian mining giant could add to the allure of an initial public offering (IPO) by first seeking to merge its diamond operation with another that is on the block from rival BHP Billiton (BLT.L), bankers and analysts said.
Such a move would revive a marriage considered four years ago and create a $3.5 billion business with a place in Britain's blue-chip FTSE-100 index .FTSE, according to Nomura analysts.
A source familiar with the matter said that could be tempting for both sides, but might also be a deal too far.
"It makes a lot of sense ... They have looked at combining the businesses before but never agreed on value ... If they can agree on value and IPO, maybe, but I wonder whether they can align the stars," the source said.
Rio followed BHP last week in announcing a review of its involvement in diamonds, a move that has propelled the sector - still dominated by De Beers and Russia's Alrosa - towards its most significant shake-up in over a decade.
Between them, Rio and BHP have put four major diamond operations on the block - a huge number in an industry that gets most of its production from 20 or so mines, and where no large discovery has been made in 15 years.
Rio and BHP are keen to focus on key commodities like iron ore and copper, while selling out of diamonds at a time of tight supply and strong demand for gems, particularly from Asia.
The move has fuelled talk smaller players, many of which are listed in London, jewelers or private equity funds could catapult themselves into the diamond industry's major league.
Charles Stanley analyst Kieron Hodgson, however, thinks that is unlikely and Rio could end up focusing on an IPO.
"The London-listed diamond companies would find it difficult to raise the capital to acquire the full portfolio of assets, so the only options for Rio Tinto are to continue hold them, sell the assets individually or spin them off via an IPO," he said.
"I would be excited to see (an IPO)... I think there would be a lot of interest from investors if that were to happen."
Emerging players like Petra Diamonds, the largest London-listed pure diamond miner and a producer that has built itself up from former De Beers mines like Cullinan and Finsch, say they are watching developments.
But Petra, like rival Gem Diamonds, has big plans for organic growth and, analysts say, could be stretched to take assets that could be worth more than in its current market value of $1.4 billion. Gem did look at BHP's EKATI mine, with backing from a major bank, but its market value is below $600 million.
Moreover, Petra and Gem have focused on southern Africa, while Rio's assets are in Canada and Australia as well as Zimbabwe.
"Will it create an opportunity for us? I am not sure," Johan Dippenaar, chief executive of Petra, told Reuters. "Any of these assets are well within our ability to manage, that isn't a problem at all, but we have also just announced that we have made a very interesting discovery in Botswana ... and we have a very ambitious growth profile from our existing portfolio."
Smaller players are even more uncertain of their prospects of seizing the opportunity, even with backing from private equity players like KKR or Apollo, which have shown an interest in the sector.
"For guys like us, it is going to be extremely difficult if not impossible, based on our size - it would be a stretch too far," said Stellar Diamonds Chief Executive Karl Smithson.
EYEING THE MARKET
On the block for Rio are Australia's Argyle, famous for its pink diamonds and one of the world's largest diamond deposits, its stake in Diavik in Canada, and its majority share of Murowa in Zimbabwe, as well as the Bunder project in Madhya Pradesh, India - one of only four new diamond mines likely to become functional in the next 10 years.
BHP is considering the sale of EKATI in Canada, having already sold its stake in a Canadian exploration project.
Rio is still considering all its options, from a total or partial sale to an IPO, but it is expected to press ahead with its plans. BHP, on the other hand, could hold on to its EKATI mine, which has been on the block since November.
Diamond retailers like Harry Winston, which as Rio's partner in the Diavik mine has the right of first refusal on its stake, have shown interest in owning a share in mines to secure supply of high quality gems. But the assets up for sale are probably beyond their reach, analysts say.
Likewise, Chinese investors and Indian cutters who purchase the bulk of Argyle's output and private equity. All these potential suitors want to secure diamonds but lack mining expertise and would also need deep pockets with Rio's Argyle and Diavik both in the throes of underground expansion.
Both BHP and Rio will also fret over likely community fall-out from any sale which could endanger other, more significant projects, as the mines near the end of their life.
"The last thing BHP or Rio want to do, when they are in the middle of (getting permits for) bigger projects in Canada or Australia, is to have to come back and sort out a mess someone else has made," said analyst Edward Sterck at BMO Capital Markets.
Instead, as Rio prepares to name an advisor over the coming weeks, it will keep an eye on two other diamond players en route to market, jeweler Graff and entrepreneur Beny Steinmetz's Octea diamond operations, which includes the Koidu mine in Sierra Leone. Both would list in Hong Kong.
"There is a lot of action in the sector. There is a reason Rio have decided to throw their chips on the table now and play into that," the source familiar with the matter said.
"I think they will look at all options, and a base case is probably an IPO."
© Thomson Reuters 2023 All rights reserved.