Andy Warhol's Wide World comes to Paris
By James Mackenzie
PARIS (Reuters Life!) - Andy Warhol comes to Paris in a major exhibition of his trademark society portraits but a famous image of Yves Saint Laurent will be missing after a dispute over whether the late couturier was an artist or a mere designer.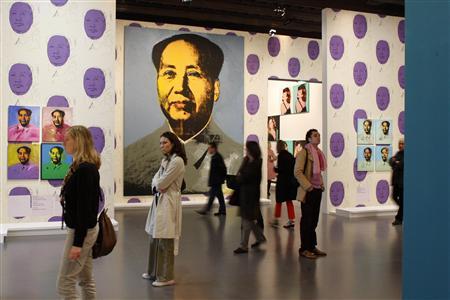 "Warhol's Wide World," which opens this week, presents some 140 of the 1,000 or so portraits of actors, stars and assorted jet set personalities turned out by the "Pope of Pop" from the 1960s until his death in 1987.
Based on existing photographs or created with a specially designed Polaroid camera, Warhol's garishly tinted pictures of Marilyn Monroe, Jacqueline Kennedy or Saint Laurent became icons in the modern cult of celebrity.
Along with his Campbell's Soup can, they are some of the best-known images in modern art and the exhibition is expected to be one of the biggest of the year.
Warhol once remarked that he wanted all his portraits to fit together and make one big painting called "Portraits of Society" and exhibition curator Alain Cueff regretted that it had not been practical to do so.
"It would be wonderful to recreate the dream of Warhol, to have 1,000 portraits of people just like that but it was quite impossible, I'm afraid," he said.
Even so, the Grand Palais, a vast hall created for the Great Exhibition of 1900, has been lined with some of the most famous faces of the era, from stars like Monroe or Mick Jagger to artists like Man Ray or fashion designers like Giorgio Armani.
But it also includes many portraits commissioned for $25,000 each by rich individuals hoping, as the show's catalog puts it, "to glow with the aura of Warhol's genius."
The 1974 portrait series of Saint Laurent, planned to hang in a "Glamour" section near Armani and other designers like Sonia Rykiel, had been intended as one of the centerpieces of the exhibition.
But in a move that provided a strangely appropriate backdrop to a show as much about fame as art -- it was withdrawn at the last minute by his former partner Pierre Berge.
"To show the portraits of Yves Saint Laurent with personalities from the fashion world -- even if some of them have talent -- was unthinkable," he explained in a letter to the Le Monde daily last week.
"To put Saint Laurent in the 'glamour' section would be to show disrespect for his oeuvre and to mix him up with the 'beautiful people,'" he wrote.
The controversy has added an element of spice to the exhibition, which is expected to draw vast crowds to the same hall in which Saint Laurent's monumental art collection was auctioned last month.
But organizers are confident that the importance of the collection will outweigh any controversy.
The exhibition opens in the Grand Palais on March 18 and runs until July 13.
(Editing by Paul Casciato)
(Additional reporting by Noemie Olive and Tsvetina Chankova)
© Thomson Reuters 2023 All rights reserved.