Asia jeweler hopes bling remains king in downturn
SINGAPORE (Reuters Life!) - One of Asia's leading jewelry firms is hoping gold and diamonds will remain a girl's best friend, even in a recession, as the manufacturer and wholesaler launches its own deluxe retail brands.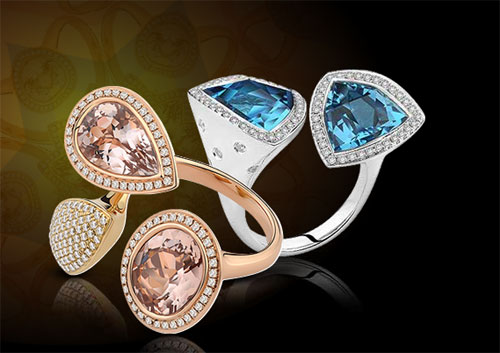 Trillions collection from Forever Jewels
Singapore-based Forever Jewels supplies some 850 retailers around the world, including prestigious names such as Italy's Centoventuno and Damas in the Middle East, with distinctive, gem-encrusted pieces.
The company, which has head offices in several major gold trading hubs including Dubai and Hong Kong, generates over 5,000 pieces a month, and now, it wants some of those to be identified by its own brand, banking on its unique designs and quality to lure customers despite the dire economy.
"No matter whether times are good or bad, people will always desire things that make them feel happy," said Marjory Lim, a trained jewelry designer who founded the company with her husband Chu Chiu Fai in 1995.
"The only difference is that, when times are tough, they will look for quality and value," Lim, who is also the firm's managing director, told Reuters. "With our global reputation and our experience, we can offer both."
Forever Jewels, a mainstay at international jewelry fairs which is also setting up offices in New York and Milan, is entering the market at a tough time.
The World Gold Council says gold jewelry demand was 24 percent down in the first quarter of the year compared to the year-ago period, and expectations for an upswing remain slim due to the high and volatile gold price and global downturn.
Among the few bright spots in the market are China, where Forever Jewels manufactures its pieces, and some markets in the oil-rich Gulf region.
Forever Jewels is planning to launch its first retail brand in September and second in 2010, ahead of plans to become publicly-listed in 2012.
On Friday 3 July, it showcased 3,500 pieces, worth over $7 million, from its new "Around the World" collection, which will also be taken on tour globally.
Pieces start at around S$1,500 ($1,000) and many are inspired by Paris and Tokyo, cities Lim said she and her husband find "exhilarating."
Highlights of the collection, which has wildlife, oriental, aquatic and city themes, include a snake-shaped black gold pendant adorned with baroque pearls, rubies and diamonds in black, white and yellow.
($1 = 1.450 Singapore dollar)
(By Miral Fahmy. Editing by Sugita Katyal)
© Thomson Reuters 2023 All rights reserved.