Asian retailers see sales hop in Year of Rabbit
Jan 25 - Retailers across Asia are poised for a sales boost during the Lunar New Year holidays as China's new ranks of big spenders head abroad for the peak shopping period.

Strong economic growth and rising incomes are expected to bolster Chinese retailers.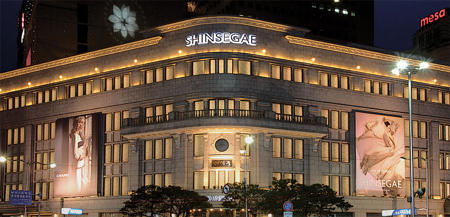 Shinsegae Co, South Korea's No.2 retailer
But inflation risks and a stronger yuan mean that shopping hot spots such as Hong Kong, Tokyo and Seoul could benefit more than last year as the Chinese take their appetite for cosmetics, electronics and luxury goods abroad, industry experts say.
"Retail sales growth as a whole in China is expected to remain strong at about 20 percent in the run-up to the Chinese New Year as many companies have been enjoying a very good year," said William Lo, an analyst at Ample Capital in Hong Kong.
Despite efforts to cool growth, China's economy expanded 9.8 percent in the fourth quarter, from 9.6 percent in the third quarter, defying expectations for a slowdown.
Analysts say Chinese retail sales should remain strong despite worries about inflation, which hit a 28-month high of 5.1 percent in November as food and property prices surged.
China's retail sales rose 18.4 percent in 2010 and PricewaterhouseCoopers LLP expects retail sales growth to stay above 14 percent in volume terms in 2011 on rising incomes and government steps to stimulate domestic consumption.
"Inflation won't affect wealthy (Chinese) customers. Even for the mass market, people won't be very picky for pricey goods like this (gold ornament)," said Paul Law, an executive director of Luk Fook Holdings Ltd , the largest Hong Kong-listed gold ornament and jewellery distributor.
Decorative red lanterns hung in many shops in Hong Kong, along with depictions of rabbits. February 3 marks the start of the Year of the Rabbit, according to the Chinese Zodiac. And more specifically, the 2011 rabbit year is the "golden rabbit" which is auspicious for wealth.
LET'S SHOP
A survey by Credit Suisse this month showed that a shift towards discretionary spending in emerging markets continues and almost a fifth or more of households in Russia, China and Brazil have incomes of more than $2,000 a month.
As soon as average monthly household income exceeds about $1,000 -- adjusted for purchasing power -- consumption of essential goods and services tends to tail off in favour of discretionary items such as cars or fashion goods.
The rise in discretionary spending, boosted by a steady rise in the yuan is encouraging Chinese consumers to shop for luxury goods abroad, where they can avoid high taxes, custom duties and fears their goods may be counterfeit.
"We can for sure get genuine products here," said Chen, a tourist from Xian in China's Sichuan province, shopping for a camera at Causeway Bay, one of Hong Kong's prime shopping districts. "In China, you cannot guarantee that you will get the genuine stuff even if you are willing to pay."
Tourist arrival numbers from Hong Kong, Tokyo and Seoul all show a rising trend of Chinese tourists, who are becoming an increasingly important source of revenue for local retailers.
In Singapore, Helen Khoo, Executive Director at Wing Tai Retail, a subsidiary of Wing Tai Holdings Ltd which manages a portfolio of fashion brands including Ben Sherman, Miss Selfridge, Topshop and Karen Millen, said sales are off to a good start this year thanks to increasing local demand and rising visitors from China and Indonesia.
"We are hopeful and positive that...sales this Chinese New Year will be as good as that of Christmas and should be at least 10-15 percent better than the previous year."
Chinese tourists on average spend a little more than 95,000 yen ($1,150) on shopping visits to Japan, nearly double what tourists spend overall, according to the latest quarterly data from Japan's Tourism Agency.
Alan Chan, executive director of Hong Kong-based cosmetic chain operator Bonjour Holdings Ltd said he expected to see percentage growth in same stores sales (those opened for more than a year) in the low teens over Chinese New year, with spending by Chinese tourists typically three to four times that of local shoppers.
Yuan strength has lifted Chinese tourists' interest in South Korea as a shopping destination, said a spokesman for the country's No.1 retailer, Lotte Shopping.
"Pre-orders for gift sets have been very strong and consumer sentiment is in good shape thanks to robust corporate earnings, fat corporate bonuses that are being paid out around Chinese New Year, and the stock market's rally," he said.
AGE OF THE CONSUMER
Shinsegae Co , South Korea's No.2 retailer, said pre-orders for Chinese New Year gift sets point to around a 30-percent rise in holiday sales, with Amorepacific's Sulhwasoo cosmetic line especially popular with the Chinese.
High quality cosmetics, electronics and other Japan-made items are expected to be on the shopping list of Chinese tourists in Tokyo, which like Hong Kong, has relaxed tourist visa requirements to help attract more visitors.
Tokyo's upscale Ginza neighbourhood and electronics heaven Akihabara have been regular stopping grounds for buses of Chinese tourists eyeing make-up foundation from Japanese brands such as Shiseido and rice cookers and curling irons from electronics makers such as Panasonic.
The rise of the consumer in Asia, especially China, has driven retailers to raise their game in the region -- Italian fashion house Salvatore Ferragamo, for instance, plans to open eight new stores on top of its 50 stores in China this year.
"In our interaction with some of the global luxury players, it's very clear that Asia is the single-most important driver of growth, although China, just the sheer numbers in China of course, just completely eclipse anything that is happening elsewhere," said Vijay Karwal, head of the consumer industries team in Asia for Royal Bank of Scotland, in Hong Kong.
By Donny Kwok and James Topham
(Additional reporting by Jungyoun Park in Seoul, Charmian Kok and Saeed Azhar in Singapore; Editing by Dhara Ranasinghe and Bill Tarrant)
© Thomson Reuters 2023 All rights reserved.