At New York Fashion Week, couture meets mass market
By Rebekah Kebede

NEW YORK, Feb 15 (Reuters) - Outside the runways where designers are unveiling fashions in New York, Mercedes-Benz is showcasing its pricey gullwing supercar next to Maybelline's display of inexpensive lip gloss in an effort by both high-end and mass-market companies to raise their profiles and boost consumer following.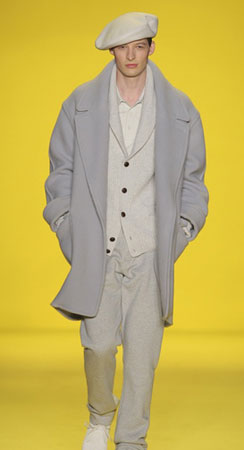 Lacoste at New York Fashion Week, autumn-winter collection 2010/2011
New York Fashion Week, a twice-yearly event that draws thousands of fashion insiders and fans, has a reputation for glamour, exclusivity and luxury. Yet it is increasingly attracting sponsors such as Maybelline that sell modestly priced goods.
Even Tupperware (TUP.N), maker of commonplace kitchen containers, joined this season to sponsor one of the designers, who have struggled to find backers and buyers in the U.S. recession.
A runway show at Fashion Week can cost $100,000 for a designer, who likely has been facing bleak retail sales. Corporate sponsors can help pay for the shows while using the opportunity to advertise their products.
"This process, through the great recession, has shown us that the affluent are very able to look at affordable products and look at them with a different eye now," said Candace Corlett, president of WSL Strategic Retail, a marketing consulting company.
SAMPLING THE $5.99 LIP GLOSS
"It's all converging to say, 'Sure, Maybelline can sponsor Fashion Week. Why not?'" she said.
Waiting to take their seats at the runway shows, Fashion Week attendees crowd around Maybelline's display to sample its new lip gloss, which retails for $5.99, and pose in front of the futuristic Mercedes-Benz, with its base price of roughly $200,000.
Some Fashion Week veterans say they were first taken aback when brands such as fast-food chain McDonald's and sandals purveyor Havaianas appeared as sponsors in recent seasons.
Companies not typically associated with fashion also are signing up, such as Hewlett-Packard Co (HPQ.N) and Intel Corp (INTC.O), which were among the sponsors for television's popular "Project Runway" fashion reality show.
Tupperware sponsored this season's fashion show by Irina Shabayeva, a recent "Project Runway" competition winner.
Jessica Ramey, production manager for clothing brand Edun, said she originally was puzzled by the array of unusual sponsors but, as the economy sank, the scenario made sense.
"The big companies have the money," she said.
SKIRT CONSTRUCTED WITH TUPPERWARE
Acknowledging the support of her kitchenware sponsor, Shabayeva incorporated earrings and a dress with a skirt constructed with Tupperware material into her show.
The shift in sponsorships is part of a broader democratization of fashion, according to Irma Zandl, an expert on consumer behavior and president of the Zandl Group.
Reality television shows such as "Project Runway," high-end design collaborations with mass discounters such as Vera Wang's line for Kohl's and the grim economy have contributed to the trend, Zandl said.
Designer Korto Momolu of Little Rock, Arkansas, took the concept of democratization to its logical conclusion by asking her friends for contributions to sponsor her show. She devised her strategy after failing at the more traditional route of pitching to company sponsors.
"They are giving to the big names, and they are not trying to take a chance on you," Momolu said.
Momolu gathered small donations, a strategy she likened to President Barack Obama's grass-roots campaign fund-raising.
"Those bits and pieces added up," she said. "It worked for the president, and it worked for me."
© Thomson Reuters 2023 All rights reserved.