Australia gold miners Lion, Catalpa to merge
SYDNEY, June 24 (Reuters) - Australian gold miners Catalpa Resources (CAH.AX) agreed a merger with smaller peer Lion Selection's (LST.AX) gold assets on Wednesday 24 June, part of a trend toward mergers among the gold sector's junior ranks.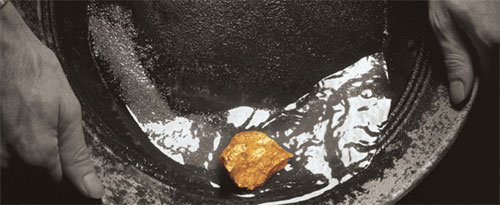 Catalpa Resources
The combination, which would create a gold producer with output of about 130,000 ounces a year, sent the shares in both companies sharply higher and immediately achieved one objective of the union: a revaluation of Lion Selection's gold assets.
The target firm's assets, valued by Lion Selection at around A$50 million ($40 million) ahead of the deal, immediately jumped as Lion stock surged 33 percent to close at A$1.36.
Catalpa Managing Director Bruce McFadzean said the deal would fill an investment void for mid-cap gold companies, with the industry currently polarised between big producers and minnows.
"We think Australia needs new mid-tier producers and that's always been our goal," he told reporters.
The proposal is the second merger plan to surface in recent weeks aimed at creating a second tier of gold stocks with the liquidity and scale to attract a wider class of investor.
The deals comes two months after junior gold miners Avoca Resources Ltd (AVO.AX) and Diro Exploration (DIO.AX) announced an all-share merger aimed at roping in bigger investors.
Investment banks UBS and JP Morgan each held seminars this week to introduce more investors to mid-tier miners.
Under the Catalpa-Lion deal, Lion Selection's non-gold assets would be spun off into a separate stock and distributed to existing shareholders. The shareholders would then receive one Catalpa share for every original Lion Selection share held.
"We have an opportunity to open up the market for this new gold vehicle," McFadzean said.
After non-gold assets are stripped out of Lion's holdings, Lion shareholders will hold 60.1 percent of the merged company and Catalpa shareholders the rest, according to McFadzean.
Lion business arms are African Lion and Asian Lion. Its gold interests outside of Catalpa are held via a A$7 million investment Philippines explorer Indohil Resources NL (IRN.AX) and a one-third stake Newcrest Mining Ltd's (NCM.AX) Cracow gold mine
Gold production for the merged group will come from Lion's stake in the Cracow mine and Catalpa's Edna May mine scheduled to start production in 2010.
Catalpa climbed 19.3 percent to 10.5 Australian cents.
(By James Regan. Editing by Mark Bendeich)
© Thomson Reuters 2023 All rights reserved.