Australia's Myer H1 profit falls; post Jan sales improve
March 17 - Myer Holdings , Australia's largest department store chain, reported a fall in first-half profit in line with its guidance and said sales in recent weeks were still down compared to a year ago despite improving after a shock drop in January.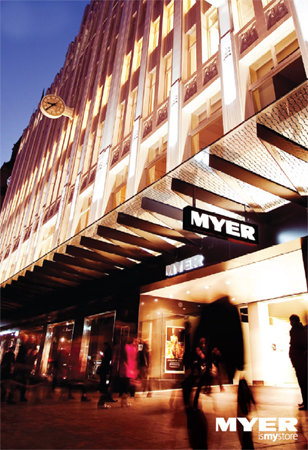 Myer
Myer, which last month joined a growing list of retailers in warning profits would miss forecasts as consumers grow cautious, said full-year net profit was likely to drop as much as 5 percent, the same guidance it gave in a February profit warning.
Investors hardly noticed Myer's update and sent the stock 0.7 percent lower, outperforming the overall market as Japan's mounting nuclear crisis and the health of the global economy weighed on sentiment.
Retailer shares have already taken a beating since the central bank raised its benchmark rate to a two-year high of 4.75 percent in November and commercial banks imposed even larger rises to mortgage rates.
Consumers reacted by spending less, saving more and demanding severe price reductions.
"Despite the ongoing challenging retail environment our strategy remains unchanged," Myer Chief Executive Bernie Brookes said on Thursday.
"Myer is very well placed to benefit from any increase in consumer confidence and discretionary spend when retail trading conditions improve," he said in a statement.
Operating gross profit margin increased by 91 basis points 40.54 percent compared to last year, Myer said.
Myer, which fully opened the doors to its revamped flagship department store in Melbourne in February, said on Thursday net profit before one-offs fell 5.2 percent to A$108.9 million ($106.5 million) for the six months to January 29. Myer had forecast between A$106 million and A$109 million.
Myer said the first half experienced fragile consumer confidence and a highly competitive market with widespread discounting. Consumers were worried about new taxes, as well as the cost of utilities, health care, petrol and interest rates, Myer said.
Also reporting earnings on Thursday was New Zealand and Australian clothing and outdoor goods retailer Kathmandu Ltd , which posted a sharp rise in first half profit driven by a 19 percent rise in sales, and forecast further improvement in the second half. The stock was up 2.6 percent at NZ$1.99 after the result.
Myer shares, which traded above A$4 in September before the last interest rate increase, were last at A$3.08 at 2335 GMT.
(Reporting by Miranda Maxwell; Editing by Balazs Koranyi)
© Thomson Reuters 2023 All rights reserved.