Australia's Woolworth CEO to retire; COO for food and retail to succeed
April 4 - Woolworths Ltd , Australia's largest retail chain, said Chief Executive Michael Luscombe will retire on Sept 30 and Grant O'Brien, the firm's Chief Operating Officer for food and petrol business would succeed him.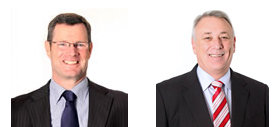 Grant O'Brien (left) will succeed Michael Luscombe (right) as Woolworth's new CEO
Luscombe, who headed the retail chain through years of double-digit earnings growth, will leave after 5 years at the helm, the retailer said in a statement on Monday.
(Reporting by Narayanan Somasundaram)
© Thomson Reuters 2021 All rights reserved.