Back-to-school shopping to test retail resilience
By Jessica Wohl - Analysis
CHICAGO (Reuters) - As students study for final exams, the retail industry is gearing up for its biggest test so far this year -- the back-to-school shopping season.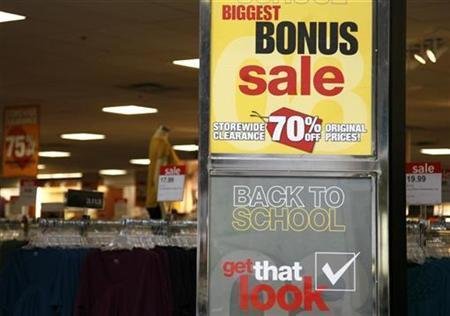 After cutting costs to cope with slack consumer demand during the recession, retailers hope the economy will start to recover in the second half of the year.
The back-to-school season, which begins in July, will be the first big chance for investors to see if retailers can lure in U.S. shoppers that have a laser-like focus on value. Sales of apparel and school supplies could serve as an early indicator of whether the economy will start to rebound later this year, as many economists expect.
"I'm not arguing that business is going to be positive," said B. Riley retail analyst Jeff Van Sinderen. "I'm arguing the declines will start to moderate, that's what we'd like to see happen. If business is up, I'd be surprised."
Back-to-school spending is second only to the winter holidays in the United States. Last year, Americans spent $54.1 billion on apparel, shoes, electronics and other items for school kids and those heading back to college, according to the National Retail Federation.
This year marks the first time parents stock up on school gear since the financial crisis dug in its claws last September.
"The question to me is the amount of the decline, and probably low single digits would be our guess," said Sandra Reese, principal at Grant Thornton Corporate Advisory and Restructuring Services.
The sales drop will vary significantly by category and by geographic region, she added.
OFF TO THE RACES?
Consumers are holding off on buying items until they really need them and are hoping that they will get them at bargain prices. That puts pressure on retailers aiming to sell merchandise without resorting to the drastic discounts many had to take during last year's abysmal winter holiday season.
Now investors must wait and see how stores fare once they clear out T-shirts and shorts to make way for warmer clothing such as sweaters and jeans.
Thomas Filandro, senior consumer analyst at Susquehanna Financial, said retailers have substantial opportunity to start seeing margin improvement in the second half of the year.
"If we get any transaction traction (in) back-to-school and fall it could to be off to races in the sector again," he said.
Retail shares have posted big gains despite sales pressure. The S&P Retail Index .RLX is up more than 19 percent so far this year versus the S&P 500's .SPX 3.7 percent rise.
KIDS COME FIRST
Retailers are up against a tough comparison since the 2008 back-to-school period got a boost from shoppers spending up to $600 in stimulus checks. At the same time, some state governments could come under pressure to stop holding summer sales tax holidays to help fill budget gaps.
It may be particularly tough for retailers to sell higher-priced binders and electronics without rebates or other incentives.
Consumers are still likely to buy new school gear unless they are in deep financial distress, as the last thing most parents want to cut back on is buying for their children.
"It's discretionary spending, certainly, but it's not considered to be a luxury," said Doug Hart, partner in the Retail and Consumer Product Practice at BDO Seidman.
Spending during the back-to-school season will continue to be oriented toward discounters, Hart said.
Last year, discount giant Wal-Mart Stores Inc (WMT.N) made an aggressive push on back-to-school sales of electronics, especially big-ticket items such as laptop computers.
Retailers that have held up in the recession include Wal-Mart and others focused on lower-priced goods, such as TJX Cos (TJX.N). While their sales have grown, consumers cut back broadly across the spectrum in May.
(Reporting by Jessica Wohl, additional reporting by Alexandria Sage in San Francisco, editing by Matthew Lewis)
© Thomson Reuters 2022 All rights reserved.