Bain deal seen most likely for eyewear company Safilo
By Marie-Louise Gumuchian and Cristina Carlevaro
MILAN, July 24 (Reuters) - A private equity deal is looking the most likely solution in Safilo's (SFLG.MI) quest to strengthen its balance sheet, as Bain Capital remains the last contender in a race for a stake in the debt-laden eyewear maker.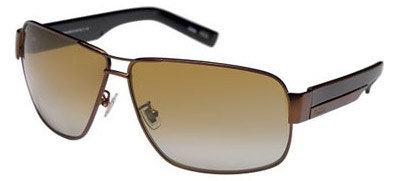 Joshua aviator sunglasses from Fossil by Safilo
The Dior and Gucci eyewear maker has net debt of around 600 million euros ($852 million) and has just delayed a debt repayment. It has been seeking potential investors for new funds and is under time pressure for a deal, analysts say.
Sources close to the matter have said Chairman Vittorio Tabacchi's family prefers a private equity option, while creditor banks push for an industrial partner. The Tabacchi family has a nearly 40 percent stake which it has said it could dilute.
"Bain is at the forefront. Now there need to be negotiations between Bain, Safilo and the banks and if they agree it will surely go to Bain," one analyst who declined to be named, said.
Safilo, which has a market value of 129 million euros, has declined to comment on the process. Bain also declined comment.
Offers were presented in June, but nearly two months later after Pai Partners pulled out, Bain has yet to start exclusive talks.
"For now, there are no exclusive talks between Safilo and Bain. Safilo even invited Berggruen to make an offer," a source close to the matter said, referring to the investment company, which says it has not received a warm response.
Banks remain keen on an industrial partner for Safilo, which could avoid them being asked for extra funds in a capital increase, the analyst said.
RIVALS MENTIONED
Rival eyewear maker Marcolin (MCL.MI) was proposed as a partner, one of the sources close to the matter said.
But a source close to Marcolin said Safilo was not discussed at its June board meeting. Analysts deem a deal unlikely and prefer bigger competitor Luxottica (LUX.MI).
But its CEO has said before it was not interested in Safilo.
"(Luxottica buying Safilo) would allow for the survival of Safilo ... with huge synergies," a second analyst said.
"At some point the banks might impose on the Tabacchi family to sell even to Luxottica if they find no alternative but clearly that would be the very last solution," he added.
The first analyst gave a Bain deal a 60 percent probability, a 30 percent chance to Luxottica and the rest to an outsider.
Safilo, which has also seen the crisis hit demand, got a breather when banks agreed to delay to Dec. 31 payment of a finance instalment due June. It also won a waiver on financial covenants linked to the financing arrangement.
It has a 195 million euro 2013 bond with a payout due in November. Analysts have said it needs a 250 million euro capital increase to rebalance its financial structure.
The company has announced plans to shut a plant and job cuts of more than 1,000. For its first-half figures, Deutsche Bank analyst Francesca Di Pasquantonio sees "concerning" results.
"Financially speaking, they have six months of autonomy before the situation gets really bad," one of the analysts said.
"Business wise, clearly the longer the wait the worse things get because if the company has ... to pay back the debt, you can imagine that financial working capital and payment of salaries will become an issue. I think time is crucial."
Berggruen, behind eyewear group FGX International (FGXI.O), has said it could not carry out due diligence.
"My guess is that they are probably too late in the process and (Safilo) have got Bain very much committed to the deal" said Filippo Lardera, of Compass, Rondelli Advisers.
"They don't want to reopen the process with the banks breathing down their necks." (Editing by Rupert Winchester)
($1=.7043 Euro)
© Thomson Reuters 2022 All rights reserved.