Beirut: All Gucci and no gigabytes
Chanel, Dior, Brioni, Valentino, Cartier, Bulgari, Longines, Rolex, Panerai, Louis Vuitton, Armani, Tom Ford, Gucci, Alexander McQueen, Hermes, Dolce & Gabbana, Louboutin.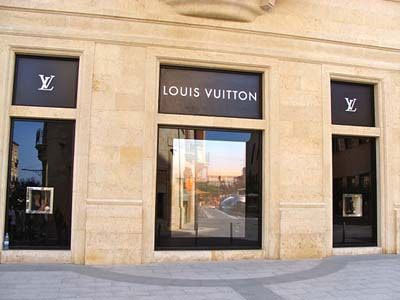 Louis Vuitton in Beirut
You name it, Beirut's got it. These days, however, it seems there are not that many people around who want it, or at least not enough who can afford to buy it.
Although not many are ready to say so, some of the plush, brand-name boutiques of the 21st century Beirut Souk have a dearth of rich clients. Their staff, bored stiff, stand around all suited-up and made-up with hardly anyone to serve.
In normal summers, many of the ultra-wealthy of the Gulf move to Lebanon to escape the stifling heat at home and enjoy a lively, cosmopolitan, Arabic-speaking city that appreciates the art of conspicuous consumption.
This year is different. Saudi Arabia and other oil-rich Gulf states are urging citizens not to come, citing security concerns in a country shaken by the uprising next door in Syria.
"Business is a bit down for sure," said Walid at Alexander McQueen. "But about 70 percent of our clientele is Lebanese, either from here or living abroad. So we don't depend on Gulf visitors entirely."
"In Lebanon, it's always up and down," he said, in a nod to the 1975-1990 civil war that ripped the capital to bits, and the bouts of violence that have punctuated political life since.
But some luxury vendors maintain they are scare-proof.
"It's a matter of brand awareness," said one impeccably dressed salesman at Louis Vuitton, where it seems elegant women and girls in expensive denim can't get enough of handbags, price be damned. "We're doing very well," he smiled.
At Louboutin, where $6,000 gets you a pair of Daffodile spike-heels encrusted in Swarovski crystal, business is "not as great as expected but better than last year", said an assistant.
Still, some less snooty brands even have "Sale" signs on their aristocratic shopfronts, discreetly placed of course.
While the Lamborghini website currently offers 40 percent off keychains and fashion accessories, Lamborghini cars such as the outrageous 700 hp Aventador parked in a chic street, with Dubai plates, still cost $400,000 or so.
In a car-crazy city where the lowly pedestrian is more likely to be buzzed by a Porsche SUV than a Nissan compact, it's hard to tell, but the impression is that there may be fewer supercars around this year than last summer.
DON'T GO
The Saudis this month joined Bahrain, United Arab Emirates and Qatar in advising their nationals to stay away from Beirut, after sectarian tensions fuelled by the Syrian revolt sparked some street fighting in Lebanon earlier this year.
Rumour has it that some of the gleaming $200 million yachts that adorn Beirut's modern marina have weighed anchor and left. Maybe not back to Cayman Islands registration ports, but to some other Mediterranean haven. Morocco is said to be in vogue.
A Saudi Foreign ministry official spoke of "the unstable situation in the Lebanese arena", and Saudi Arabia should know.
The Sunni Muslim Gulf Arabs - particularly Saudi and Qatar - have thrown their weight behind the Sunni-led anti-government uprising in Syria, paying the salaries of a rebel army and calling for the opposition to be armed.
"But they're still coming from the Gulf," said a manager at one top-of-the-line clothing outlet, offering Versace and Kiton among other celebrated Italian tailor-designers. "Those who know Beirut and have apartments here, they're still coming."
"The royal families won't come. They can hardly advise their people not to come here then come themselves," he said. "And those who used to drive, you know, 21 people in a convoy of three Suburbans, well they can't do that because of the situation." The drive from Arabia goes via Syria.
OVER THE TOP
Beirut opinion is divided about the city's impressive postwar downtown redevelopment, which removed some of the scars of the civil war and transplanted the new Souk at its heart.
Some love its lofty, quiet, airy layout of marble and glass lanes lined with bright shops, and the surrounding streets of pale golden stone facades, cut in neo-Ottoman style, where a Bentley coupe and a Ferrari or two are not out of place.
The streets are swept spotlessly clean. Litter is absent among glossy office towers hosting an alphabet of banks. City workers in overalls, mostly Africans it seems, use Ostrich-feather dusters to keep the traffic lights clean. No kidding.
Not everyone likes it. Some say the centre is a soulless temple to Mammon and commercialism that has robbed Beirut of its cultural heart, obliterating the old Levantine market streets of overflowing shops where traders shouted for business.
The rest of Lebanon is nothing like the Beirut Souk. Average per capita income is $10,500 - about a tenth of that in the emirate of Qatar - and the country suffers a chronic lack of electricity as well as other infrastructural shortcomings.
This month Beirut saw a stark consequence of its priorities, as Lebanon struggled through three days of minimal Internet connectivity, after its sole overseas cable was damaged.
Ookla, a company that tests Internet speeds around the world, has often ranked Lebanon bottom of its global Net Index.
The Lebanese also put up with daily power cuts, which they have endured for as long as most college students can remember. A generator in every home could be the national slogan.
But the restaurants are cool and the food is great and the bars are jumping till late in the night with people who seem to devote a lot of income and attention to their appearance.
And so we leave Beirut and say goodbye, to Yves Saint Laurent, Jimmy Choo, Mont Blanc, Chloe, Hublot, Boucheron, Stella McCartney, Joel Robuchon...
© Thomson Reuters 2023 All rights reserved.