Bid speculation boosts L'Oreal shares
By Lionel Laurent
PARIS, March 2 (Reuters) - L'Oreal's (OREP.PA) share price briefly hit its highest level in almost two years on Tuesday 2 March, driven by a newspaper report that Nestle (NESN.VX) is in talks to take control of the French cosmetics group.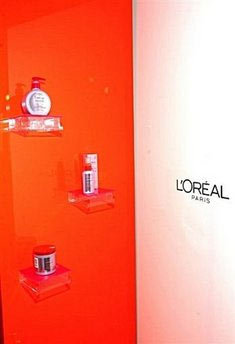 Photo: AFP/Getty Images/File/Kevin Parry
Analysts remained sceptical, however, as an existing shareholder pact means Nestle cannot increase its stake beyond the 30 percent it already holds until six months after the death of key shareholder Liliane Bettencourt.
"We do not believe in this scenario," said one Paris-based analyst in a note to clients Tuesday (2 March) morning, following the report by UK newspaper the Daily Telegraph which said Nestle was rumoured to be in talks to buy Liliane Bettencourt's 31 percent stake. Nestle already holds 30 percent of L'Oreal.
L'Oreal's shares were up some 2.5 percent, at 79.51 euros ($108.5), at 1600 GMT. Its market capitalisation is around 46 billion euros.
The stock hit an intra-day high of 80.51 euros, a level not seen since April 2008.
The market excitement may be explained by the apparently fragile health of Liliane Bettencourt, who is 87 years old, as well as the possibility that the shareholder pact could be changed, said one analyst.
"It's a shareholder agreement ... Both parties could reach (a decision) to end it," he said, though he added such a conclusion was unlikely for the moment.
It was also "logical" for L'Oreal to trade at a takeover premium given Bettencourt's age, he said.
Nestle's size, its financial flexibility and its relevant stake also made it seem a likely bidder to investors, said another analyst.
"The market is also re-visiting (the idea) that Nestle has the power, agility and financial capability to fund a substantial-sized acquisition," she said.
Neither L'Oreal nor Nestle would comment when contacted by Reuters.
Nestle's shares were up 0.7 percent, at 54.30 Swiss francs.
NESTLE CONFUSION
Although several analysts have said a takeover of L'Oreal by Nestle would not make strategic sense, Nestle's chief executive, Paul Bulcke, has only said the group does not require "transformational deals".
Nestle says it budgets 2-3 billion Swiss francs for acquisitions each year but then bought Kraft's (KFT.N) U.S. frozen pizza business for $3.7 billion in January, and with a bumper $28 billion to come from selling off its remaining stake in U.S. eyecare group Alcon (ACL.N) it is unclear how it will use the cash.
There is also uncertainty over the future of Bettencourt's stake as a court case begins over allegations her age and health were taken advantage of by a photographer friend to obtain gifts.
She has refused to undergo a medical examination requested by the French judiciary, according to a letter published in newspaper Le Figaro and confirmed by her lawyers.
Paris-based L'Oreal, which owns brands such as Garnier shampoo, Vichy creams and Kiehl's essential oils, celebrated its 100th anniversary last year and has about 15 percent of the world cosmetics market. ($1=.7395 euros) (Additional reporting by Pascal Schmuck in Zurich and Raoul Sachs in Paris; Editing by Greg Mahlich)
© Thomson Reuters 2023 All rights reserved.