Big Wheel: India launches its biggest fashion trade show
From the 13th to the 15th of March, Bombay will host the first edition of Big Wheel, India's "first profession international fashion trade fair". Organized by the Images Group and Brandspoke, the plans to bring together some 5 000 professionals.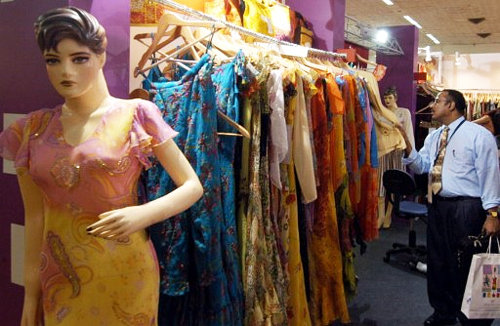 Photo: Manan Vatsyayana/AFP
The show's arrival does not really come as a surprise: India has recently relaxed its laws on foreign investment. Foreign companies could not until now own more than 51% of their Indian subsidiary. This has multiplied the number of joint ventures in India, but also greatly limited the potential for holding a fashion fair. At present, foreign brands may own 100% of their subsidiaries, but must obtain 30% of their raw materials from India.
This minor revolution should benefit the new venue, whose marketing campaign was launched last September on the India Retail Forum 2011. Organized by the Indian media group Images and the British agency Brandspoke, the show will be notably supported by the India Fashion Forum, the British High Commission and the UK Fashion & Textile Association.
Brandspoke has already announced the presence of brands including Tommy Hilfiger, Pepe Jeans London and Jack & Jones at the event. Like all the exhibitors, they will each occupy a booth of either 172 or 258 sq feet (16 to 24 square meters), with prices ranging from 400 to 430 pounds per square meter. The event will be held in conjunction with the India Retail Forum, the traditional event for Indian manufacturers.

The stakes are high, with India being hailed as the next great challenger to the Chinese economy in terms of growth. Besides its production, India also boasts a population of 1.3 billion people, whose incomes have been growing rapidly in recent years.
Copyright © 2022 FashionNetwork.com All rights reserved.