Blair could help LVMH in new markets
By Astrid Wendlandt
PARIS (Reuters) - Tony Blair's expected appointment as adviser to LVMH, confirmed by sources close to the French luxury goods group, could help it penetrate tough yet promising markets such as India, analysts said on Tuesday 12 January.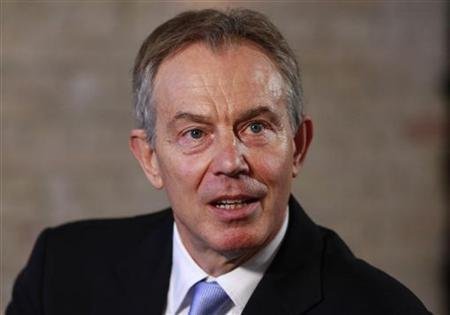 The former Prime Minister, a friend of LVMH boss Bernard Arnault, is now free to pursue other commitments having been passed over for the EU presidency in November.
Even if he already advises JPMorgan Chase and Zurich Financial, Blair has long been discussing the possibility of turning his friendship into a business relationship with LVMH, one of the sources close the luxury group said.
"It is a logical thing for him (Blair) to do," the source said.
Final details are being discussed and an announcement could be made soon, another source close to the group told Reuters on Tuesday 12 January.
LVMH owns the leather goods maker Louis Vuitton, one of the first Western luxury brands to penetrate China, as well as champagne house Moet & Chandon, Hennessy cognac and Fred, the jeweller.
Though few know if Blair has any luxury or fashion flair, investors said his clout and first class network could help LVMH develop its presence in emerging markets, on which it has staked future growth for the next decade.
"Blair could help LVMH open up new markets, get necessary authorisations and resolve complex issues," said Luca Solca, luxury analyst at Bernstein in London.
With its fast growing number of high net worth individuals, India is one of the world's biggest untapped luxury markets after China and it is a country where Blair could make a difference, analysts said.
India, potentially worth $15 billion (9.3 billion pounds) in annual luxury goods sales according to analysts, has been the laggard of emerging luxury markets because of lack of retail space, excessive red tape, high duties, poor infrastructure and the capping of foreign ownership at 51 percent since 2006.
Given the political opposition, the Indian government has been reluctant to open the country's retail sector more.
But if several analysts welcomed the expected appointment, saying it would raise LVMH's profile and stature worldwide, others expressed scepticism about Blair.
"For me, aside from the political clout, I don't see what Blair will bring LVMH. He's got an unknown track record in terms of business development," one London-based luxury analyst said, declining to be named.
Meanwhile, some British politicians have already jumped on the news, reported in Sunday papers, to attack Blair.
"If a minister knows that by maintaining a close friendship while in office they stand to benefit when they leave office, that compromises government," Liberal Democrat MP Norman Lamb said about Blair.
"And we all know that there have been plenty of concerns recently about the way parliament operates."
Blair's spokesman was not immediately available for comment and LVMH declined to comment.
POLITICS MEAN BUSINESS
Blair is one of many politicians who have successfully turned their address books and international cachet into well-paid speeches and part-time jobs.
Shortly after leaving office, former German Chancellor Gerhard Schroeder became chairman of the North European Gas Pipeline, controlled by Russian state-run gas export monopoly Gazprom.
Former Spanish prime minister Jose Maria Aznar now teaches various seminars on European politics at Georgetown University and sits on the board of Rupert Murdoch's media group News Corp , which owns The Wall Street Journal, Dow Jones Newswires and the Fox broadcast network.
Aznar also runs a conservative Spanish think tank called Foundation for Analysis and Social Studies.
But if they are well remunerated, business ties can also come at a cost. Former U.S. President Bill Clinton, a past master at the art of making expensive speeches, had to divulge all donations from foreign countries to his foundations before his wife Hillary was appointed Secretary of State last year.
Clinton has amassed a fortune since leaving the White House in early 2001 and is believed to be worth about $100 million.
He has raised millions of dollars for his presidential library and foundations, with donations coming from some foreign governments and individuals.
(Editing by Louise Heavens)
© Thomson Reuters 2023 All rights reserved.