Bold and sophisticated looks abound at Golden Globes
By Nichola Groom
BEVERLY HILLS (Reuters) - Hollywood's biggest and most beautiful stars donned their finest to strut down the red carpet at the Golden Globes on Sunday with strapless gowns, chandelier earrings, bold colours and black the top choices.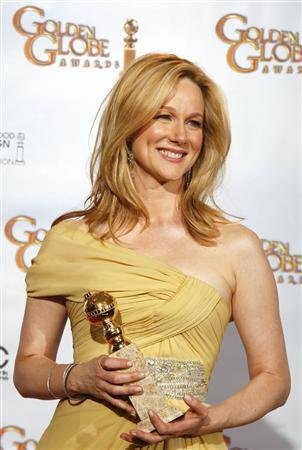 Fashion was sophisticated and pretty, style experts agreed, saying there was a dearth of cringe-worthy moments.
"I don't think anybody laid an egg tonight," said Sasha Charnin Morrison, fashion director for US Weekly. "It was really glorious, really stunning."
Black and dark blue were popular with some bright exceptions. Golden Globe nominees Kate Winslet, Amy Adams, Sally Hawkins and Viola Davis were among the many actresses who chose black dresses for the evening event in Beverly Hills, California.
"It made me feel a little bit sexy, and I needed to feel a little bit sexy tonight," Davis, nominated for best supporting actress for "Doubt," said about choosing her Max Azria plunging V-neck gown.
Evan Rachel Wood of "The Wrestler" also sported a black gown with a plunging V-neck. "People keep asking me how I picked it, but I think it picked me," she said of the sequined and beaded gown by Elie Saab.
"Blue and black are the big colours, with bigger earrings and chunky bracelets," said style expert Michael O'Connor.
Anne Hathaway, Maggie Gyllenhaal, Drew Barrymore, Debra Messing and Sigourney Weaver were all in blue.
With only a few exceptions, strapless dresses of all colours were the night's biggest trend. In addition to Winslet and Adams, Hathaway, Eva Longoria, Eva Mendes, Miley Cyrus and Freida Pinto all bared their shoulders.
Pinto, one of the stars of "Slumdog Millionaire," said she was taken with her "mustardy gold" gown by Christian Lacroix.
"When you wear one dress you feel absolutely 'wow' about, you have to wear it. And this one was it," Pinto said.
Pinto's gold chandelier earrings showed off another fashion trend -- big, chunky jewellery. Adams, of the movie "Doubt," dazzled red carpet watchers with a pair of leaves fashioned out of green gems and diamonds.
Angelina Jolie was a notable standout from the strapless dress and big earrings crowd in a shiny but simple silver-beaded dress by Versace. Jennifer Lopez also went metallic in a gold dress.
(Reporting by Nichola Groom; Editing by Eric Walsh)
© Thomson Reuters 2023 All rights reserved.