Bonus cuts at Sainsbury and M&S as goals missed
The chief executives of major British retailers J Sainsbury and Marks & Spencer have both taken cuts in their bonuses after failing to meet targets and as recession forces them to scale back growth plans.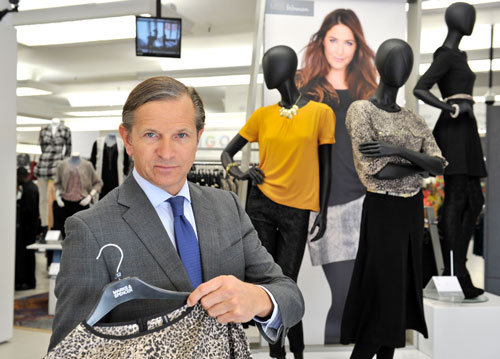 Marc Bolland / Photo: Marks & Spencer
Philip Clarke, head of rival Tesco, last month forewent his annual bonus, paying the price for a weak performance in the UK and heading off an outcry by investors increasingly critical of excessive executive pay.
Marks & Spencer's (M&S) annual report published on Thursday showed that Chief Executive Marc Bolland has taken the biggest pay cut to date among Britain's leading retailers.
M&S, Britain's biggest clothing retailer, said Bolland's total pay and bonus package of just under 1.7 million pounds ($2.6 million) last year was over 60 percent below the 4.4 million pounds he received the year before.
On top of a basic salary of 975,000 pounds, pension contributions and perks such as a car and driver, Bolland received a bonus of 663,000 pounds last year which was roughly a third of his full entitlement of up to 200 percent of salary.
Sixty percent of his full bonus entitlement is dependent on profit before tax and he received nothing in relation to this performance measure after a 1.2 percent drop - the first fall in three years.
The cut comes amidst a round of high profile shareholder revolts over executive pay at companies like Barclays, Inmarsat and Prudential in a phenomenon dubbed the "shareholder spring".
Investor resistance to big pay rises at underperforming firms have also led some executives such as Aviva boss Andrew Moss, and Sly Bailey, head of newspaper group Trinity Mirror, to quit.
Even at companies managing to outperform some executives have chosen to err on the side of caution.
Sainsbury said Chief Executive Justin King had taken a 9 percent cut in his overall package, despite the fact Britain's No.3 grocer last month posted 7 percent rise in full-year profit that came in at the top end of expectations.
King's basic salary rose to 920,000 pounds from 900,000 a year earlier but his annual cash bonus, share awards and long-term incentive plan all received haircuts, reducing his total package to just under 3.4 million pounds from 3.7 million a year ago.
King had been entitled to a cash bonus of up to 125 percent of salary but received 55.9 percent after the remuneration committee at Sainsbury judged that while profit came in on target, sales had been "below threshold".
Many of Britain's retailers are struggling as shoppers grapple with higher prices, muted wage growth and government cutbacks; with confidence further undermined by worries over job security, a shaky housing market and the euro zone crisis.
© Thomson Reuters 2023 All rights reserved.