Bonus rebound set to move the dial for Swiss watches
By Katie Reid - Analysis
ZURICH (Reuters) - A return to lavish bonuses for Wall Street's top earners could be just the tonic that the Swiss watch industry needs this Christmas after months of austerity depressed sales.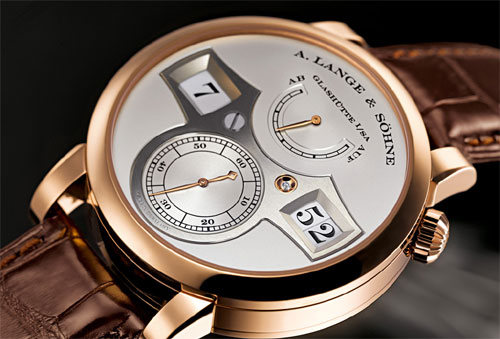 Photo: www.alange-soehne.com
The country's watch sector, which makes up around 7 percent of exports, has been grappling with a sharp drop in demand over the past year after the worst economic crisis in decades killed consumers' desire and ability to splurge on pricey treats.
But watchmakers are eyeing a modest rise in sales over the key festive period -- the fourth quarter accounts for some 30 percent of sales -- as a recovery in Wall Street earnings could lift bankers' bonuses by up to 50 percent.
"The consumer mood between the continents varies, but on average it is better than last year," said Philippe Merk, chief executive of privately owned Audemars Piguet, whose watches cost around $20,000 to $30,000.
"Luxury consumers, who are bankers, are better off now as this is the sector that has recovered the fastest. These are the indicators that tell us that this year's Christmas sales will be better," he said.
Bonuses are expected to be substantially higher this year despite pressure from politicians and regulators to restrain payouts.
Goldman Sachs (GS.N), for example, has set aside nearly $17 billion for bonuses so far this year and looks well on track to break the $20 billion mark, which could mean higher payouts per employee than in the previous record year, 2007.
This comes after a revival in profits for most investment banks, and contrasts with a bleak year for the financial sector that has seen governments bailing out major banks and nearly 400,000 job cuts.
Richemont's (CFR.VX) most important Cartier brand, Swatch Group's (UHR.VX) Tissot marque, luxury watchmaker Parmigiani Fleurier and the head of LVMH's (LVMH.PA) watch and jewelry unit have all said they expect stronger demand this Christmas.
And Tiffany & Co (TIF.N) posted better-than-expected quarterly results on Wednesday 25 November that showed its upscale shoppers around the world were spending again.
One Swiss banker said he was treating himself to one of Maurice Lacroix's latest watches this year, adding that some people bought watches and jewelry as a solid investment, especially after this year's volatile equity markets.
But he cautioned that there would still be many in the financial sector who would have to forego such purchases.
"It will not be as easy as it was in the past. There is a real difference between the winners and the losers. Employees at those banks that are now state-controlled can forget about bonuses this year," the banker said.
ASIA A BIG FACTOR
Swiss watch exports have tumbled 26 percent so far this year, ending several years of strong growth, but some analysts predict the watch industry will grow 3-4 percent thanks to an easier comparison base next year and thriving demand from Asia.
"For me, its all about Asia. Around 40 percent of the world's population is either Chinese or Indian and they are moving up the ladder," said Daniel Grueneisen, head of institutional clients North America at Swiss bank Vontobel (VONN.S).
"Wealth creation is taking place in Asia and there are already over 340,000 millionaires in China, ranking it fourth behind the United States, Japan and Germany. China now has more millionaires than countries like the UK and France," he said.
Earlier this month, Richemont posted an 11 percent rise in October sales in the Asia-Pacific region, while retailers there have also hit a more upbeat note.
"The overall atmosphere has been very encouraging," said Henry Chan, a director from Hong Kong based luxury watch retailer Emperor Watch and Jewelry (0887.HK).
The retailer, which operates 16 shops in Hong Kong and Macau and another 20 shops in major Chinese cities, has ordered more stock to meet demand this Christmas, addressing in particular the growing demand from customers across the border from mainland China, Chan said.
Tissot Chief Executive Francois Thiebaud is looking forward to a more optimistic mood amongst consumers in 2010.
"If you have a bear in hibernation, when he wakes up he is hungry, and I think consumers, after going for so long without buying anything will be like a bear. They will be hungry to buy things, to go out and live," Thiebaud said.
(Additional reporting by Silke Koltrowitz in Zurich, Donny Kwok in Hong Kong, Mark Potter and Steve Slater in London, Editing by Sitaraman Shankar)
© Thomson Reuters 2023 All rights reserved.