British trade shows fill up the Summer calendar
The British fashion trade show scene has certainly become livelier over the last few seasons. This Summer will prove to be a busy one, with events taking place in two stages. It will begin in London, from August 7-9, and then move on to Birmingham from August 14-16. Pure London, which has been improving the diversity of its offer throughout the last three editions, is going to kick off the season with its multiple spaces.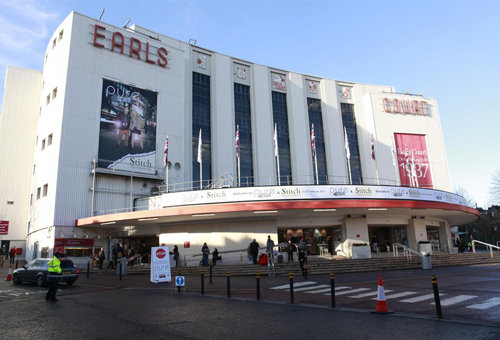 Earls Court, where Pure London's menswear trade show Stitch and kidswear fair Pure Spirit will be held
As usual, the Olympia hall is going to showcase women's fashion (370 exhibitors), accessories (150) and footwear (60). Specialised in products aimed at a large clientele, Pure London's attempt to add a "premium" sector does not seem to have succeeded. The latter would have been competing head-to-head with Scoop, a smaller trade show dedicated to upscale fashion taking place simultaneously at London's Saatchi Gallery.
Pure London has nevertheless managed to enter the world of menswear as well as that of young fashion. Following their previous successes, both sectors will be making a comeback this season under the roof of the Earls Court exhibition centre. They will be represented by around 200 brands, of which two thirds will be dedicated to young fashion and will include brands such as Desigual, Lee, Lavand, Pepe Jeans, Molly Bracken and Nümph. As for the menswear section, named Stitch, the fair will gather brands like Superga, Common People, Beryll and Sebago. A total of 1,200 brands will showcase at these events.
The list of exhibitors has perhaps suffered a little due to the creation of a new men's fashion trade show called Jacket Required. To be held in London's Rochelle School, the new event has attracted brands such as Denim Demon, Edwin, Ben Sherman, Veja and even Libertine Libertine.
Once the London fairs close their doors, fashion professionals will travel to the North of the country and gather in Birmingham for the second phase of trade shows. Moda, in the same way as its London competitor, has seen a growth in attendance rate over the past two seasons and positioned itself globally. The fair will gather the whole fashion industry under one roof, showcasing around 1,400 brands that cover all sectors from womenswear, menswear, footwear and accessories to lingerie and swimwear. Moda's performance last Summer was very positive as it saw a 22% increase in the number of visitors, where more than 12,000 of them attended the fair.
Copyright © 2022 FashionNetwork.com All rights reserved.