Cartoon coats bring surrealism to Paris shows
PARIS (Reuters) - Bustiers covered with bright plastic buttons and coats made of white Mickey Mouse gloves brought some surrealist cheer to a muted Paris fashion week on Saturday.
Paris traditionally is the climax of the round of shows that starts in New York and Milan, but it has sounded a somber note as budget cuts have forced designers into smaller venues and creative souls try to prove they share the world's economic pain.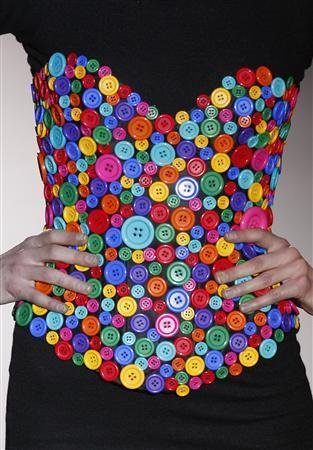 U.S. designer Jeremy Scott overthrew such grown-up concerns with an unapologetically playful collection, inspired by Mickey and Minnie Mouse comics and a sense of childish fun.
"I've always loved Mickey Mouse, and I thought about their love story and thought, at a time like this, what do we need more than love -- love, sweet love," Scott told Reuters backstage.
Minnie's polka-dot court shoes came in red and yellow, and a red pair of Mickey-style bloomers was held up by black braces and accessorized with a stole made of gloves.
A dazzling bustier covered in hundreds of pop-colored plastic buttons continued a chirpy, surrealist theme that began in Milan with Dolce & Gabbana's glove headbands and Agatha Ruiz De La Prada's bird cage dresses.
Even more wearable pieces, such as egg-yolk yellow and tomato-red coats, struck a contrast to the mood of penance and gloom that so far has marked this fashion season.
Designers are torn between publicly empathizing with the hard-hit masses on the one hand, and trying to spread an upbeat, seductive message on the other.
Asked how his business was coping with the downturn, Scott looked slightly guilty.
"I've never been busier in my life, and I hate telling people that because I feel really bad," he said. "I don't know if it's because I do something so different that I'm not as affected."
Over the past few days, before a reduced crowd of fashionistas, designers have shown different ways of responding to the downturn, from pessimism to belligerence to unfettered escapism.
At Martin Margiela, hooded navy and dark green dresses and jumpsuits covered the head and body and were slashed open to reveal some skin. Pointy shoulders were a nod to the defiant power woman who also strutted down the catwalk at Balmain.
Junya Watanabe took cocooning one step further, showing floor-length, cone-shaped quilted black dresses that enveloped their wearers like protective armor.
At Marithe & Francois Girbaud, brown and grey shirts and skirts were gathered at the side and ruched with ribbons, lifted by splashes of color in the form of red boots.
But Vivienne Westwood brushed aside such realist messages with a rebellious, fun show that featured former "Baywatch" star Pamela Anderson in a pink tutu.
(Reporting by Reuters television, writing by Sophie Hardach, editing by Michael Roddy)
© Thomson Reuters 2023 All rights reserved.