Celebrity ad bandwagon a costly trend
PARIS (Reuters) - Luxury groups are increasingly jumping on the celebrity advertising bandwagon to make their voice heard and boost sales, a trend that puts pressure on margins and which is here to stay, luxury executives believe.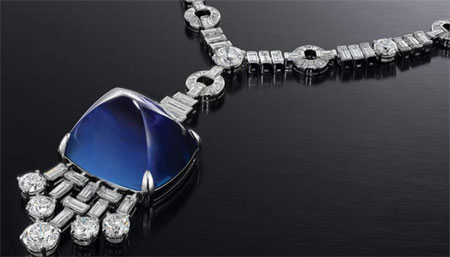 Photo: en.bulgari.com
Lossmaking Italian jeweler Bulgari resisted celebrity ads for years, preferring to invite VIPs to its shows or events, but it recently caved in, sending its costs soaring.
"We are more and more into celebrities. They make your brand visible," Bulgari Chief Executive Francesco Trapani told the Reuters Global Luxury Summit this week. "But of course, our communications budget has gone up."
In January, the Rome-based brand launched its first global advertising campaign in glossy magazines which featured actress Julianne Moore lounging naked on a sofa, adorned with large emerald earrings, two white parrots and a camel-color handbag.
"Since then, we have had people coming into our shops asking for the Julianne Moore bag," Trapani said.
Bulgari has hired the actor Clive Owen for its men's perfume campaign which will be launched in September.
Trapani said it was becoming increasingly difficult to find celebrities who were not used by other brands. The trend is also creating a bidding war for certain personalities, which makes it tough for smaller luxury brands to compete.
"Using superstars creates significantly high barriers of entry. You need considerable means," Cerruti Chief Executive Florent Perrichon told the summit this week.
"But celebrities are now part of the business and they will remain so," he said.
Louis Vuitton and Hermes have used the downturn to grab more advertising space and crush competition.
Cerruti, which is trying to rise from the ashes after going bust in 2004, has just hired the French singer Marc Lavoine for its 1881 campaign and admitted it was part of the reason why the company would not be profitable again this year.
"The problem with using celebrities is that it works, that is why everybody is doing it," Perrichon said.
French handbag maker Longchamp said it had seen a notable spike in the sales of a bag designed by supermodel Kate Moss, the fashion house's face since 2006, even though she is featured in other ads such as Yves Saint Laurent's perfume La Parisienne.
Celebrity endorsement has doubled in the last decade, according to a report cited by the marketing website www.brandchannel.com.
TOO MUCH LIMELIGHT
But relying too much on celebrities can be dangerous, analysts say.
"There is a natural limit to this marketing technique: if it becomes over-used, consumers recognize ambassadors are doing it for the fee which can damage the brand," said James Lawson, director of luxury market research specialists Ledbury Research.
He said high profile ambassadors did not work for all brands and they were no guarantee of success, particularly for smaller names.
Also, the reputation of a celebrity can change quickly. Tag Heuer dropped Tiger Woods after the golf champion was lambasted by the media over his extra-marital affairs.
But some super stars such as Kate Moss are more immune. A few years ago, Burberry suspended its contract with the model after she was hit by a drug scandal. But very quickly, she was back on the cover of Vogue and in luxury brands' adverts.
"For me, using a celebrity for your brand is a sign of weakness," said Jean-Marc Jacot, chief executive of luxury watch maker Parmigiani Fleurier.
He acknowledges that Parmigiani Fleurier, which is not even 10 years old, does not have cash for advertising. But he lets it be known that people such as Melinda Gates, wife of billionaire Bill Gates, and Russian Prime Minister Vladimir Putin own a Parmigiani watch.
French luxury and pen maker ST Dupont, which also does not have funds for advertising, makes targeted presents instead.
Since its Chief Executive Alain Crevet offered a black lacquered pen to French President Nicolas Sarkozy to congratulate him on his 2007 election victory, ST Dupont has become a regular supplier of the Elysee Palace.
But the use of celebrities is not appropriate for every brand. For example, Buccellati, the fine Italian jeweler favored
by European monarchs and actresses, avoids the star system.
"We are not really in favor of celebrities. Our brand is known well enough," Buccellati Vice President Andrea Buccellati told the summit this week.
Instead, the jeweler said it preferred to organize private shows and events to build personal relations with customers.
(Editing by David Cowell)
© Thomson Reuters 2023 All rights reserved.