Celebrity hair stylist Vidal Sassoon dies at 84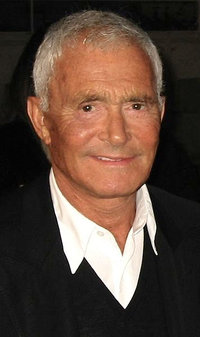 Vidal Sassoon / Photo: DierkA
LOS ANGELES - Vidal Sassoon, hair stylist and fashion world icon who created a natural look in the 1960s and built a multi-million dollar business on his name, has died of apparent natural causes at his home in Los Angeles. He was 84.
The British stylist's scissors spelled the end of the 1950s-era beehive and the bouffant - untouchable hairstyles that owed their existence to lacquer and hair pins - and brought him international fame and fortune.
Sassoon was dubbed a pioneer by many for coming up with so-called wash and wear looks - liberating many women from weekly salon trips to have their hair done.
But as much as he was a genius in the salon, Sassoon was a whiz in business. He began marketing his name, styles and cutting techniques in a worldwide line of beauty salons, hair-cutting schools and later, related lines of hair products.
Still, Sassoon never felt the profession that he put at the forefront of modern fashion received the respect it was owed.
"Hairdressing in general hasn't been given the kudos it deserves," Sassoon told Reuters in 2010. "It's not recognized by enough people as a worthy craft."
"If you get hold of a head of hair on somebody you've never seen before, cut beautiful shapes, cut beautiful architectural angles and she walks out looking so different - I think that's masterful," he said.
Born in London on January 17, 1928, the son of a poor Turkish-Jewish carpet salesman, Sassoon spent eight of his early years in an orphanage after his father abandoned his family. He quit school at 14, and his stepfather agreed to finance his apprenticeship as a hairdresser.
"It was my mother's idea," he once said of his entry into hairstyling. "Her feeling was that I didn't have the intelligence to pick a trade myself."
In 1948, after the partition of Palestine, Sassoon spent a year working on a kibbutz and fighting with the Israeli army. He credited that year with giving him the direction and discipline needed to jump into a full-time career in hair cutting.
BOND STREET AND BOB CUTS
In 1950 he won his first hairdressing competition, and four years later at age 26, opened his first shop in fashionable Bond Street in London's West End.
He had decided that if he could not change hairdressing within a decade he would become an architect, and he drew inspiration from great buildings around the world. But soon, his salon was bursting with women looking for his signature styles that were geometric yet surprisingly natural and easy to shape.
His wispy-short early style was a vast contrast to the teased, brutally coiffed styles of the 1950s, and by 1963, he had created a short, angular cut on a horizontal plane that was the recreation of the classic "bob cut."
At the time, Sassoon was creating his "wash and wear hair" when styling models for fashion designer Mary Quant. Women began fashioning themselves after Quant's "Carnaby Street" style - not only with their hair, but also with white lipstick, severe eye makeup and thigh-high skirts.
His association with Quant put Sassoon at the forefront of pop culture and fashion. His styles also began attracting a male audience when The Beatles adopted Sassoon-inspired cuts with bangs and long locks down to their shoulders.
He gained even greater fame with his hair style for Mia Farrow in 1967 film, "Rosemary's Baby," and the term "a Sassoon" became part of the fashion lexicon in Europe and America.
"I just consider being one of the luckiest people in the sense that creativity came to me and it flowed," Sassoon told Reuters in the 2010 interview.
AUTHOR AND BUSINESSMAN
He diversified his hair-styling interests by writing. In 1967 - at age of 39 - he published an autobiography, "Sorry I Kept You Waiting Madam", and in 1976, with his second wife Beverly, he wrote "A Year of Health and Beauty."
The book was a best-seller, but the marriage soon ended in a much-publicized divorce. His first marriage, to his receptionist Elaine Wood in 1956, had also ended in divorce in 1963.
Overall, Sassoon would marry four times throughout his life and have four children. His eldest daughter Catya died of an accidental overdose in 2002 at age 33.
After building a business with salons and styling products, Sassoon sold the rights to his name to Richardson-Vicks, a U.S. health and beauty supply company, in 1983. At that time his hair products alone were netting Vidal Sassoon Inc about $113 million dollars a year.
Procter & Gamble acquired Richardson-Vicks in 1985, and continued making products using the Sassoon name.
The famed stylist sued Procter & Gamble in 2003, accusing the company of breach of contract and fraud on the grounds that it neglected his brand. The two sides reached a confidential settlement in 2004.
The stylist maintained his British roots despite living in the United States. He was a die-hard fan of the Chelsea soccer team, and in 2009 he was honored by the Queen Elizabeth II when he was named a Commander of the Order of the British Empire.
Apart from hairdressing interests, he set up the Vidal Sassoon Foundation to help the needy in educational pursuits both in Israel and abroad.
Sassoon is survived by three children and his wife, Rhonda.
© Thomson Reuters 2023 All rights reserved.