Cheap chic Uniqlo booms in deflationary Japan
March 18 - Tokyo's high-end shopping district of Ginza was back at its booming best this week with hundreds of shoppers queueing up to spend their cash, in an echo of Japan's bubble years.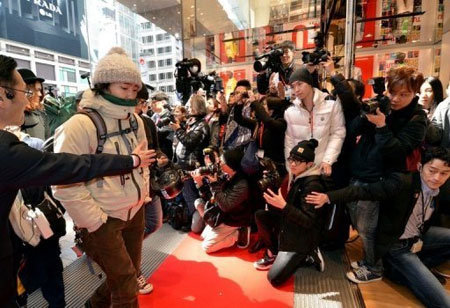 The first customers enter Uniqlo's giant new store (AFP, Yoshikazu Tsuno)
Around 450 people lined up on one block, eager to splurge more than 40,000 yen ($500) on the new iPad, the latest in a long line of must-have electronic gizmos that a certain sector of Japanese consumers crave.
But at about the same time, another 1,000 people were queuing just a few streets away to bag a clothing bargain as Uniqlo threw open the doors of the largest store in an ever-expanding global empire.
"I've been waiting since 5:30 this morning," said 23-year-old Tsubasa Okamoto.
"I would like to see their new offerings in the designer's collaboration line. But most of all, I like their products for the price."
And with a pair of cotton trousers or a t-shirt for as little as 990 yen ($12), the attraction is obvious.
Prices like these are a reminder that while Ginza is buzzing again, not everyone has come for the designer brands and exclusive lines that made the area one of the priciest in the world to do business.
Rubbing shoulders with the likes of Louis Vuitton and Hermes has its costs.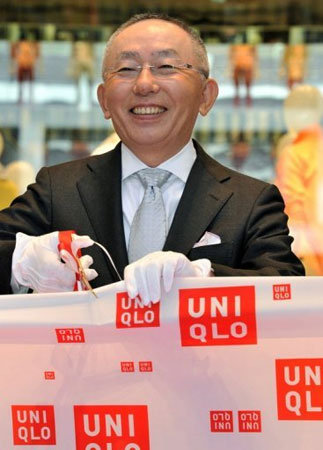 Uniqlo chairman Tadashi Yanai beams as he opens the store (AFP, Yoshikazu Tsuno)
Government records show land near Uniqlo's new store sold just over a year ago for 20 million yen ($234,000) per square metre (11 square feet).
But Uniqlo, and a host of other cheap-chic brands like H&M, Zara and Gap, are banking on the fact that a country once famous for its sky-high prices has fallen in love with a bargain.
Parent company Fast Retailing began Uniqlo in 1949 as a small clothing shop for men in western Yamaguchi prefecture.
It came of age after Japan's bubble burst around 1990 when the Nikkei 225 stock index fell through the floor and the champagne years of rabid growth came to a shuddering halt.
Many lambasted Uniqlo and all it stood for at the time as a symbol, or even a cause, of the vicious deflation that was to run the once unstoppable economy ragged over the next two decades.
But with Japan's politicians seemingly unable to staunch the wound and re-float Asia's second largest economy, Uniqlo has pounced, turning customers' ever decreasing spending power to its advantage and becoming one of the country's most successful companies.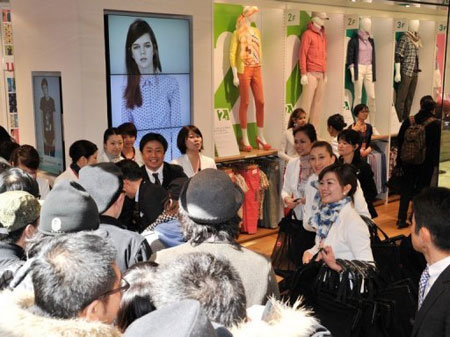 1,000 people queued to get into the store as it opened (AFP, Yoshikazu Tsuno)
"This store is the best of all for us," said Uniqlo chief executive Tadashi Yanai Friday at the opening of the 12-floor, 5,000 square metre shop on Ginza's glitzy "Chuo Dori" high street.
"We don't hear much good news these days. I think it is good news that we were able to open this store."
After opening megastores in cities including New York, London and Paris, Uniqlo has now shifted its focus to rapidly growing Asia, operating in Shanghai, Taipei and Seoul.
Yanai said the Ginza shop will be the launch pad for a full-fledged expansion across the booming continent.
"(Ginza) is Japan's largest gateway to the global market," said Yanai, who is looking at 100 new stores in Asia in the year to August 2012.
"Unfortunately, Japan is in a state of deadlock due to the ageing population, the low birth rate and politics being in deadlock.
"But when I look at Japan as a part of Asia, a member of the world, I feel excited about the gigantic potential."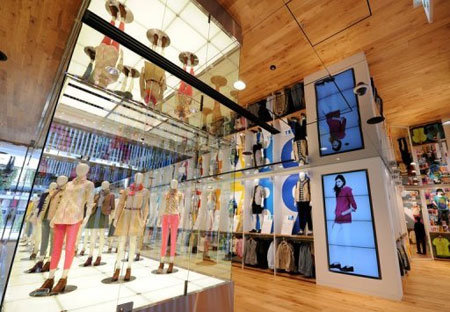 Apair of cotton trousers or a t-shirt costs as little as 990 yen ($12) (AFP, Toru Yamanaka)
Japan's economy, while still large by any measure, is struggling.
Its greying population is less keen to spend, its export markets are suffering in the global downturn and a mood of austerity persists from last year's devastating earthquake and tsunami.
But it is this uncertainty and crimped spending power that is Yanai's secret weapon.
"This trend of price cutting is happening throughout the world, not just in Japan," he said. "I think it will become an even stronger trend in Japan. It will allow more and more people to enjoy shopping."
Keiji Kanda, an economist at Daiwa Institute of Research, said Yanai was definitely on to something with his assessment.
"About one-third of workers in Japan are part-timers, and many of them are the main breadwinner for the household," Kanda said.
"Once companies lay off full-time workers and get away with part-timers, they do not go back.
"Under these circumstance, it is true that consumers are becoming more sensitive about prices."by Harumi Ozawa
Copyright © 2022 AFP. All rights reserved. All information displayed in this section (dispatches, photographs, logos) are protected by intellectual property rights owned by Agence France-Presse. As a consequence you may not copy, reproduce, modify, transmit, publish, display or in any way commercially exploit any of the contents of this section without the prior written consent of Agence France-Presses.