China's Sun Art raises $1.1 bln in HK
July 8 - China's biggest hypermarket operator Sun Art Retail Group Ltd raised $1.1 billion after pricing its Hong Kong initial public offering at the top of an indicative range, bucking a downturn in Asian IPOs as investors jostled for a piece of China's booming consumer market.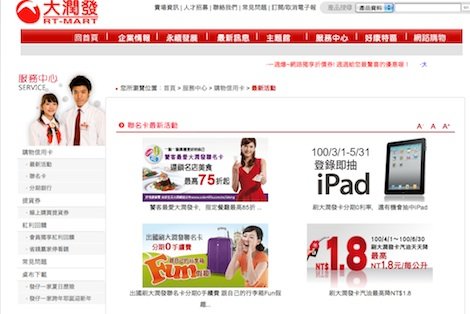 Sun Art, a joint venture between Taiwanese conglomerate Ruentex Group and privately held French retailer Groupe Auchan SA , operates 197 hypermarkets across China under the Auchan and RT-Mart banners. -photo: www.rt-mart.com.tw
Sun Art was only the second $1 billion-plus Hong Kong IPO this year to price at the top of expectations, after casino operator MGM China in May.
The company sold 1.14 billion new shares in a primary offering at HK$7.20 each, at the top end of an indicative range of HK$5.65 to HK$7.20 per share, IFR reported, raising HK$8.21 billion ($1.1 billion) to fund expansion and pay down debt.
Slumping markets around the world have put pressure on companies to postpone or cancel IPOs, or raise less money than expected. China Everbright Bank delayed its $6 billion offering, while Prada SpA's deal raised less than originally planned.
"Investors are bullish about consumer demand in China," said Olive Xia, a consumer analyst at Core Pacific Yamaichi International in Shanghai who recommended investors to buy the stock in the IPO.
"Sun Art (priced) at a premium to other hypermarket and supermarket operators in China, but in view of its strong growth outlook and management's profit forecast, this will support its premium valuation."
Booming growth in the world's second largest economy has created a new class of consumers who flock to supermarkets, shopping malls and auto dealerships to spend their earnings.
China saw the number of hypermarkets rise exponentially to 3,222 by the end of 2010 from just 96 in 2000 and that number is expected to jump further to 5,211 by 2015, according to market-research firm Euromonitor.
"We expect that growth in the hypermarket segment...and the broader grocery retail industry in general will continue to be based on economic growth in China as well as continuing urbanisation of the population with accompanying rises in disposable income," Sun Art said in its IPO prospectus.
GROWTH COMPANY
The IPO price values Sun Art at 31.5 times 2011 earnings and 24.1 times 2012 earnings, according to the consensus estimate of banks underwriting the deal. Rival China Resources Enterprise Ltd trades at a P/E of 32.4 times for 2011 and 26.4 times for 2012.
Sun Art, a joint venture between Taiwanese conglomerate Ruentex Group and privately held French retailer Groupe Auchan SA , operates 197 hypermarkets across China under the Auchan and RT-Mart banners.
The company posted a profit of 1.61 billion yuan ($249 million) in 2010 on sales of 56.17 billion yuan and forecasts a profit of 1.79 billion yuan in 2011.
Sales in the three months to March 2011 surged 26.6 percent to 19.82 billion yuan from a year earlier, while profits were up nearly 34 percent to 817 million yuan.
Sun Art is the top hypermarket operator by sales in China with a 12 percent market share, it said in the prospectus, citing estimates from Euromonitor.
Wal-Mart Stores , the world's largest retailer, ranked second with a 11.2 percent share, followed by China Resources Enterprise with a 9.8 percent share and Carrefour with 8.1 percent.
Ruentex opened its first China hypermarket in Shanghai in 1998, with Auchan following suit in 1999. The companies decided to merge their Chinese business in 2000 in a joint venture, launching Sun Art.
Sun Art plans to use 50 percent of the IPO proceeds to open new stores in China, while 30 percent will be set aside to pay down debt.
The remainder of the funds will be used to upgrade and remodel existing hypermarkets, set up new distribution centers and for working capital.
The company said it has 51 hypermarkets under construction across China and secured 121 locations for future openings, without giving a timetable for when the stores would open.
CORNERSTONE INVESTORS
As part of the IPO, Sun Art sold $420 million shares to cornerstone investors, who back many Asian listings with commitments to buy large, guaranteed stakes and agree to a lock-up period during which they will not sell their shares.
Sovereign wealth fund Government of Singapore Investment Corp (GIC) and Malaysian state investor Khazanah each took $40 million worth of Sun Art shares, while private-equity firms General Atlantic and Hillhouse Capital Management invested $70 million a piece.
Hedge funds Owl Creek Asset Management and Tiger Global, private equity firm Arisaig Partners and an affiliate of Bain Capital and French fund manager Carmignac Gestion also invested $40 million each.
UBS AG , Citigroup Inc and HSBC Holdings Plc acted as joint global coordinators for the deal, with BNP Paribas SA , China International Capital Corp, Goldman Sachs Group Inc and Morgan Stanley also helped underwrite the offering as joint bookrunners.
The stock is slated to begin trading at the Hong Kong stock exchange on July 15.
(Editing by Jonathan Hopfner and Vinu Pilakkott)
© Thomson Reuters 2023 All rights reserved.