China sees growing demand for 'soft gold' cashmere
May 4 - Factory worker Wu Suqing hunches over a machine knitting a green cashmere sweater bound for a department store in China where demand for the luxury wool is growing even as Western sales shrink.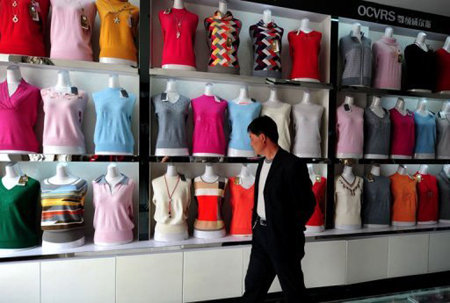 A selection of cashmere sweaters are displayed at a retail store in Ordos, Inner Mongolia
Surrounded by towering piles of brightly coloured pullovers, Wu and dozens of workers at a factory in northern China churn out more than 100,000 sweaters a year that retail in Beijing and Shanghai for hundreds of dollars each.
"At the beginning I was tired but now I'm used to it," Wu told AFP above the the clamour of knitting machines in a dingy building in Ordos in northern China's Inner Mongolia, where she works 11 hours a day.
China is the world's largest producer of cashmere, churning out 75-80 percent of the global supply -- worth an estimated five to six billion yuan ($770 million to $920 million) per year.
This "soft gold" or "diamond fibre," as highly prized cashmere is known in the industry, has traditionally been exported to affluent overseas markets.
But China's growing taste for luxury products is changing that.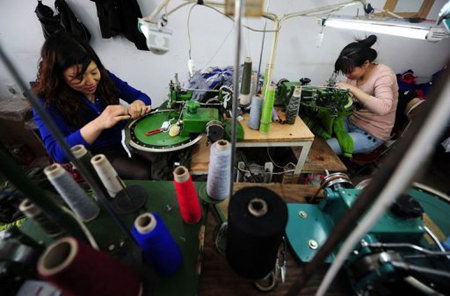 Wu Suqing (L) sits beside her machine in a cashmere sweater factory in Ordos, knitting a jumper bound for China
High-altitude northern and western China are ideal for producing the cloud-like wool. Their cold, dry winters cause the long-haired goats scattered across the region to give forth rich coats to keep the animals warm.
The soft fibre is spun into yarn and then knitted into sweaters, scarves and shawls sold by luxury brands such as Hermes and Eric Bompard in Paris, New York, and Sydney.
More than half of the country's cashmere clothing and accessories are still exported, but are finding a growing market in increasingly affluent Chinese cities.
"It is easy for a Chinese person to buy a cashmere sweater now. People are much richer than before," Zhang Quanxiang, vice director of the China Livestock Marketing Association's cashmere department, told AFP.
The number of Chinese-made cashmere sweaters exported in 2010 fell to 12 million, down 33 percent 2007, as the financial crisis hit US and European buyers, said Zhang, former vice president of China's largest cashmere producer, Ordos Group.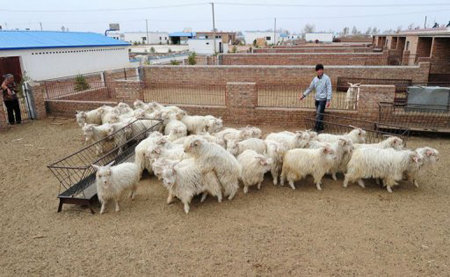 A farmer walks near a herd of Cashmere goats raised for their wool at a farm in Ordos in Inner Mongolia
But he adds that the growing Chinese market has helped offset that.
Raw cashmere prices have nearly doubled in recent years due to the Chinese demand, fewer goats following recent bitterly cold winters, and a ban on grazing the sharp-hooved animals on open land in Inner Mongolia to prevent soil erosion.
The rising prices have been life-changing for herders such as Meng Lounu, 77, whose family lives in a village on the edge of the vast Gobi Desert where they raise hundreds of goats in large earthen-floor pens.
The family earns one million yuan per year selling cashmere to factories in Ordos. Recently, they have been able to buy a new pick-up truck and build several block-shaped cement houses for family members.
"Our standard of living gets better and better," Meng said, herding dozens of long-horned goats around a yard strewn with dung and straw.
"Before, our life was bad, but now it's great. We can eat as much as we want -- we make more and more money," she told AFP, her brown face creased with wrinkles.
China is the world's fastest-growing market for luxury goods and is forecast to be the biggest by 2015, according to consultancy PriceWaterhouseCoopers.
A woman shopper at a wholesale outlet in Ordos, where a 100-percent cashmere sweater sells for up to 2,000 yuan, said she liked the soft fibre because it was comfortable.
"Our products are not considered that expensive -- it is more expensive to buy them in the stores in Beijing," a saleswoman told AFP.
The picture is less rosy for China's cashmere factories, whose profit margins have been eroded by the soaring wool prices and increasing competition from other Chinese manufacturers enticed by the growing market.
"The business is becoming more and more difficult," said Yang Wang, the owner of a factory in Ordos which makes about 100,000 sweaters a year mainly for the Chinese market.
"Cashmere factories are popping up everywhere in China. And there are more than 10 factories of the same size in Ordos."
While Wu Suqing may not be able to afford one of the beautiful sweaters she makes, she understands why people are prepared to pay the equivalent -- or more -- of her entire monthly salary for the luxuriant wool.
"It feels nice and is comfortable to wear," she said, sitting on a steel chair piled with folded cloth as a cushion.
by Allison Jackson
Copyright © 2023 AFP. All rights reserved. All information displayed in this section (dispatches, photographs, logos) are protected by intellectual property rights owned by Agence France-Presse. As a consequence you may not copy, reproduce, modify, transmit, publish, display or in any way commercially exploit any of the contents of this section without the prior written consent of Agence France-Presses.