China set to become top luxury market
BEIJING (Reuters) - China will become the world's biggest luxury market in five to seven years as consumers see incomes grow along with sustained appetite for high-end brands despite the recent economic downturn, a survey said on Thursday 21 January.
A survey by The Boston Consulting Group of 2,550 Chinese consumers last year at the height of the global economic crisis found that Chinese "aspire to" luxury brands and can increasingly afford them, the group said in a statement.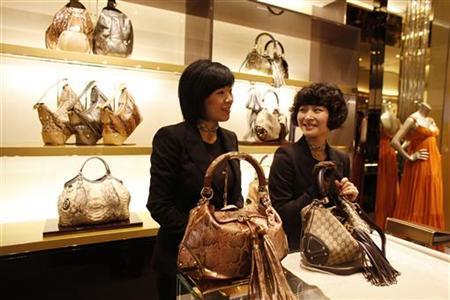 The findings are seen boding well for expensive foreign brands, from handbags to cars, with ambitions in China.
Chinese consumers who buy the likes of Chanel, Gucci and Louis Vuitton, which is owned by listed luxury goods group LVMH , average 25 to 35 years old with fast rising income, said Boston Consulting Group principal Vincent Lui.
Rising incomes are a hallmark of modernization in Chinese cities such as Beijing and Shanghai since the 1990s. China's economy grew even during the recent global crisis.
"Right now, Chinese consumers are relatively younger than most of the clients luxury companies have in other places, most of them are in the 25 to 35 age span," Lui said.
"And second is the mobility, meaning many people have increasing income, so yesterday they couldn't afford the luxury products, but one, two or three years down the road, they will have a means to afford (luxuries)," Lui said.
Chinese consumers are also known for being adventurous and impulsive, said David Wolf, president of Wolf Group Asia, a Beijing-based corporate advisory firm.
"In a world increasingly preoccupied with sustainable consumption, China is the last great bastion of bling, not only luxury but flashy luxury," Wolf said.
High net-worth households will grow from 417,000 to 609,000 by next year as luxury brand competition moves to China's developing inland cities, the Boston Consulting Group said.
It did not say where China ranked today as a world luxury market or which country was No. 1.
(Reporting by Ralph Jennings and Maxim Duncan; Editing by Jon Loades-Carter)
© Thomson Reuters 2023 All rights reserved.