China, US to spur luxury sector
May 22- The global luxury goods market is recovering much faster than most expected a year ago, bolstered by China, strong tourist spending in Europe, resurgent growth in Russia and the U.S. economic recovery.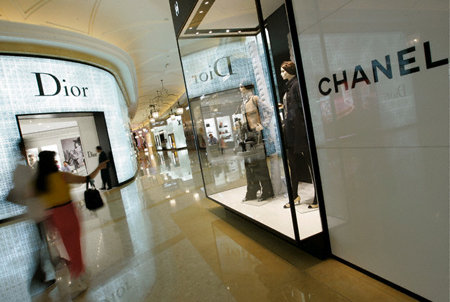 'The Shoppes at Four Seasons', the first luxury shopping centre in Macau, China (Photo: Corbis)
Barring unforeseen events that could either dent consumer sentiment or hamper travel and tourist shopping, such as political unrest in the Middle East or another economic slowdown, executives and analysts expect the sector to enjoy several more years of sustained growth.
At the Reuters Global Luxury and Fashion Summit on May 23-25, top industry executives will discuss the outlook, challenges such as production bottlenecks and staff shortages, and trends in dealmaking.
Luxury's prospects are encouraging industry leaders like LVMH to resume the hunt for acquisitions, and prompting popular brands such as Ferragamo and Moncler to mull initial public offerings.
On Sunday, Germany's Labelux Group said it was buying British luxury shoemaker Jimmy Choo.
Paris-based investment firm Pictet Asset Management believes that valuations of luxury companies should rise back up to their historical averages of 20 to 22 times future earnings, compared with 17 times now, given this outlook.
If all goes to plan, fashion house Prada will soon be the first Italian company to float shares in Hong Kong, eager to tap Asia's luxury-hungry investors and consumers.
Coach Inc, a New York Stock Exchange-listed leather handbag maker, is planning to also list shares in Hong Kong to raise its profile in Asia, the fastest growing luxury market.
The effects of surging prices for raw materials such as cotton, leather, gold and silver will also be in focus at the Summit, as will the question of which emerging markets will be the next big engine of growth alongside China.
Many expect Greater China -- including Macau, Taiwan and Hong Kong -- to narrow its gap this year with Japan, the world's second-largest luxury market behind the United States, and possibly overtake it.
Several European brands such as Hermes, L'Oreal and Prada have invested in homemade Chinese design and luxury, while some Chinese luxury brand owners are looking west and seeking to make acquisitions in Europe.

RISING COSTS, RETURN OF "ASPIRATIONAL SHOPPERS"
Earlier this month, U.S. consultant Bain raised its 2011 growth forecast for global luxury sales to 8 percent at constant currencies from a 3 percent to 5 percent range after sales results from major luxury companies such as LVMH, Burberry, PPR, Saks Inc, Tiffany & Co and Tod's, comfortably beat market expectations.
In the United States, luxury spending has come roaring back, helping by rising consumer confidence and stock markets.
Bain's study, conducted with Italy's Fondazione Altagamma, estimates that the U.S. luxury market -- nearly three times larger than those of Japan or China -- grew 16 percent in 2010 to reach $68 billion (48.1 billion euros).
Experts see a lot of upside left.
"When you look at luxury spending per capita, American people are still far below what you see in some other countries," Jean-Marc Bellaiche, a senior partner at The Boston Consulting Group, told Reuters. "The penetration of luxury in the U.S. is low so there is probably a lot of potential."
After suffering large sales declines during recession, U.S. luxury department stores such as Saks and Neiman Marcus Group Inc, have outperformed their down-market rivals.
At the same time, those retailers, as well as Coach and Nordstrom Inc, are expanding their outlet store chains to cater to the "aspirational" luxury shoppers -- people of modest means who covet brand names -- who Saks CEO Stephen Sadove said last week have returned in droves.
Outlet stores are no-frill locations where retailers sell merchandise they could not sell at their full-service stores.
Retail executives in the United States at the Summit will look at whether such initiatives, which may be profitable in the short-term, will damage their image long-term.
The 2011 Reuters Global Luxury and Fashion Summit is taking place in New York, Paris, London, Shanghai and Hong Kong.
By Astrid Wendlandt and Phil Wahba
© Thomson Reuters 2023 All rights reserved.