Chinese bride trains eye on wedding dress record
BEIJING (Reuters Life!) - A Chinese bride is hoping to enter the record books after getting married in a wedding dress with a train more than 2 km (1.2 miles) long trailing behind her.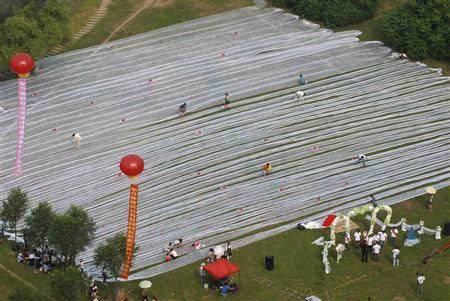 Photo: REUTERS/Stringer
It took guests more than three hours to roll out the gown, complete with 9,999 silk red roses attached to it, in the northeastern province of Jilin, state news agency Xinhua said.
"Both the length of the dress and the number silk roses pinned on the wedding dress can make history," the report quoted groom Zhao Peng as saying.
Zhao, who has applied to Guinness World Records, said he was inspired after seeing a story on the previous record holder in Romania, where the dress measured just over 1.5 km.
"I do not want a cliche wedding parade or banquet," he said.
Bride Lin Rong "laughed and cried at the romantic gesture," Xinhua said.
The dress cost around 40,000 yuan ($5,856), which prompted initial opposition to the plan from his family.
"It is a waste of money in my opinion," said Zhao's mother. "Though I understand that he wants to show his love on the big day."
($1 = 6.830 Yuan)
(Reporting by Ben Blanchard)
© Thomson Reuters 2023 All rights reserved.