Chinese haute-couture steps up at HK Fashion Week
Hong Kong - China at one time may have been better known for fashion knockoffs than catwalk creations, but Chinese haute-couture is now finding its feet on the international stage -- even as it grows ever more popular with customers at home.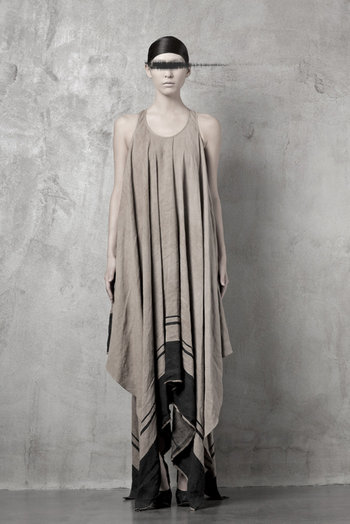 Uma Wang SS 2012 / Photo: Uma Wang
Chinese designers have been front and centre at Hong Kong Fashion Week for Fall/Winter 2012, which ends on Thursday, taking advantage of the nearly 2,000 exhibitors from 26 countries and regions to make their mark.
"China's been the clothing factory of the world for some time," said Chinese designer Qi Gang, whose creations featured bright colors, sequins, fur and feathers.
"But as our economy develops, we are also becoming a country of famous brands, big brands. This trend is unstoppable," he told Reuters TV.
Qi, who describes his styles as "sexy and extravagant," is profiting from the growing affluence of his vast nation, whose economic growth has been hit by a sluggish global economy but still posted annual growth of 8.9 percent in the fourth quarter.
His SCfashion label saw turnover of $47 million last year, and his chain of stores across the mainland rose to 40 from 25.
Qi joins a growing host of Chinese designers including Uma Wang, Qiu Hao and Ma Ke, whose "exception" label is known as the closest thing China has to its own luxury brand.
"Chinese designers are definitely marking their territory," said Craig Lawrence, a U.K.-based knitwear designer, who said that China is likely to benefit from moves by Western fashion capitals, such as Paris, to become more global.
"They're putting their stamp down on the international platform because (this) Fashion Extravaganza is such a mix of international people and there's so much press from around the world it helps create a buzz."
But while international brands still dominate the luxury markets, local brands have a home advantage, said fashion researcher Angelia Teo, content director, Asia-Pacific, WGSN.
"A lot of the Chinese designers will find a lot of satisfaction and a lot of return if they base their businesses on a domestic standpoint, simply because there is such an appetite for it," she added, noting that local shoppers are developing a more sophisticated sense of style.
"We start to see the Chinese become more nationalistic in the way they purchase items. So they want to buy something that's Chinese, they want to buy a design aesthetic they've grown up with. The Chinese designers are meeting that need."
(Reporting by Tessa Dunlop at Reuters TV; editing by Elaine Lies and Paul Casciato)
© Thomson Reuters 2022 All rights reserved.