Clothes shops' price gamble may backfire
By James Davey
LONDON (Reuters) - Clothing retailers, facing sharp cost increases, are planning a gamble that could backfire by raising prices next year in what could be one of the worst consumer downturns in 30 years.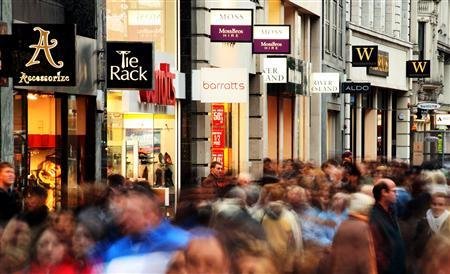 Top chains such as Marks & Spencer Group Plc, Next Plc, Debenhams Plc and Top Shop owner Arcadia are not only struggling with higher fuel and utility bills, but also the sudden weakening of the pound and soaring cost increases from suppliers in Asia.
The rising costs present retailers with a major problem.
If they cannot pass the increases on to shoppers -- in a market some analysts reckon could be as tough as the recession of the late 1970s -- their profit margins will be hit, and if they do pass them on their sales volumes will likely suffer.
"Is it more important to try and maintain sales levels with a slightly squeezed ... margin, or is it more important to have a better margin with a lower volume of sales? That's a very difficult judgement call," said Neil Saunders, a director of Verdict Research, a retail consultancy.
In the two years to July 2008 British clothing retailers, whose sourcing of clothing from Asia is U.S. dollar denominated, benefited from the pound's 15 percent appreciation against the U.S. currency.
This benefit is now going into reverse. Since July the U.S. dollar has gained 8 percent versus the pound.
Suppliers in Asia are also hiking prices as they face cost increases themselves.
Analysts reckon cotton fabric prices are up at least 10 percent, Chinese manufacturing wages have risen 20 percent and freight costs are estimated to be up more than 30 percent in the last year.
The removal of export subsidies in China has also raised the prices retailers pay for goods.
REDUCING MARGINS
"We're looking at a situation where next year we're either going to see reducing margins or an increase in prices, or a combination of both," Simon Wolfson, chief executive of Next, the UK's second-largest clothing retailer by sales value, told Reuters earlier this month.
He expects prices to rise for the group's spring/summer ranges next year, though probably by less than 10 percent.
Analysts at Morgan Stanley estimate the combination of currency and rising input costs could see Next's gross margin fall by over 3.5 percentage points in its year ending Jan 2010 if the group does not raise prices, driving down pretax profit by 10.5 percent to 385 million pounds.
"We find it hard to believe that the clothing industry will suddenly feel able to start significantly raising prices for discretionary items in the middle of an economic downturn. Hence, we expect a large proportion to be carried by the retailers," the Morgan Stanley analysts said in a research note.
Verdict's Saunders is similarly sceptical that consumers will have any appetite for price rises.
"The consumer environment and the competitive environment ... is such that it would be very very difficult for anyone to put prices up by any significant degree," he said.
The gloomy outlook is underlined by the performance of UK general retail stocks, which are among the worst performers on the London stock market, having underperformed the FTSE All-Share index by 27 percent over the past year.
The sector's outlook based on price/earnings estimates is also downbeat, with a multiple of 16.2 times last year's earnings according to Reuters data falling to 13.4 on estimated 2008 earnings and 12 for 2009, indicating profits are expected to decline.
KEY ROLE
Analysts said the stance on price taken by discount clothing retailer Primark (owned by Associated British Foods Plc, the UK's largest clothing retailer on a volume basis, and Philip Green, owner of the Arcadia fashion group and the Bhs department store chain, will be crucial.
"The key will be how Arcadia and Primark play it," said Nick Bubb, retail analyst at brokerage Pali International.
"Green's going to be keen to protect his margins, he may try and make life more difficult for the likes of Marks & Spencer by being more tricksy. I'm sure Primark will be trying to keep prices down."
Primark operates on very thin margins but makes its money by selling huge volumes.
"With that kind of business model you've got much more scope to be still very competitive on pricing. When it comes to some of the middle-market players, they don't have the volume that Primark does and it's a bit more challenging," said Verdict's Saunders.
Rob Templeman, chief executive of Debenhams, the UK's second largest department store group, expects prices to rise across the sector but sees opportunities alongside risk.
"We do have different ways of mitigating some of those potential cost increases, either through supply chain management and consolidation of our supply base or through design influence," he told Reuters last week.
"For example we could put 1 to 2 pounds on the price of some (imported) goods and potentially get 5 pounds of (extra) selling price," he said.
But this is not an option for all UK clothing retailers. As Verdict's Saunders says: "It doesn't matter how good the product is or how nice the store environment is, if the money's not there to be spent then you're not going to take it."
© Thomson Reuters 2023 All rights reserved.