Collective Brands shares tumble a day after weak results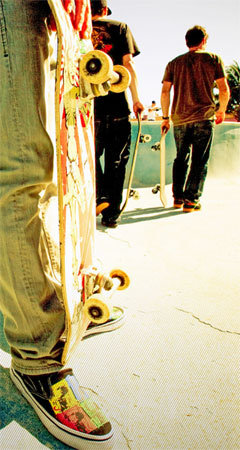 Collective Brands Airwalk
By Nivedita Bhattacharjee
BANGALORE (Reuters) - Shares of Collective Brands Inc (PSS.N), the holding company for shoe sellers like Payless ShoeSource and Stride Rite, fell more than 23 percent Wednesday March 11, a day after the company posted a bigger-than-expected quarterly loss and said it sees store counts dropping in 2009.
The Topeka, Kansas-based company took a hit from aggressive promotional campaigns in shoe stores, and said it would shut about 100 Payless domestic stores in 2009.
However, analyst Christopher Svezia of Susquehanna Financial Group, who has a "positive" rating on the company, said trends would improve as they head into the next quarter.
"They laid out plans to control costs and will see improvements in pricing in the second quarter," he said by phone.
The company said adjusted SG&A expenses fell $16 million over the last year, and plans to cut capital expenditure to $85 million from $129 million in 2008.
"So far, looks like they might have a solid first-quarter," Svezia said, adding that for the current quarter, Collective Brands was hurt by increased product costs from China -- which hosts its manufacturing units-- hurt gross margins.
Svezia said these pressures will subside in 2009 and raised his price target on the company's stock by $1 to $12.
"Today people are just reacting to the headlines, reacting to the quarter itself," he said.
Shares of Collective Brands touched $7.44 before trading at $7.55 Wednesday morning on the New York Stock Exchange.
(Editing by Jarshad Kakkrakandy)
© Thomson Reuters 2023 All rights reserved.